London is home to some amazing street food markets, but there is no better place to stuff your face with homemade deliciousness than Borough Market.
In this Borough Market guide, we'll go over everything you need to know to make the most of your time here.
It's honestly one of the best food markets in all of Europe, and as a Londoner who spends an embarrassing amount of my time here, I've got the full scoop on when to go, what to eat, and tips and tricks you need to know.
Let's dig in (to the post and to the food options!).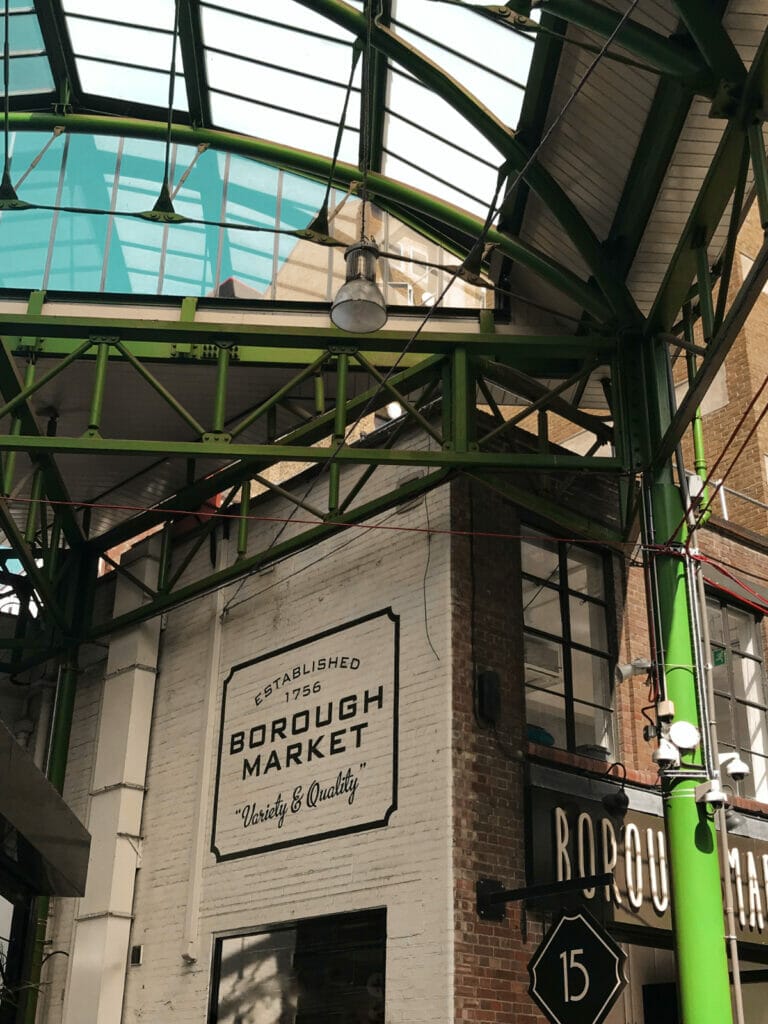 Does Borough Market cost money?
No! It's completely free to enter and walk around.
Of course, the food at each stall costs money, but everywhere takes card these days so you don't even need to ruffle through your bag to find coins.
Borough Market Opening Hours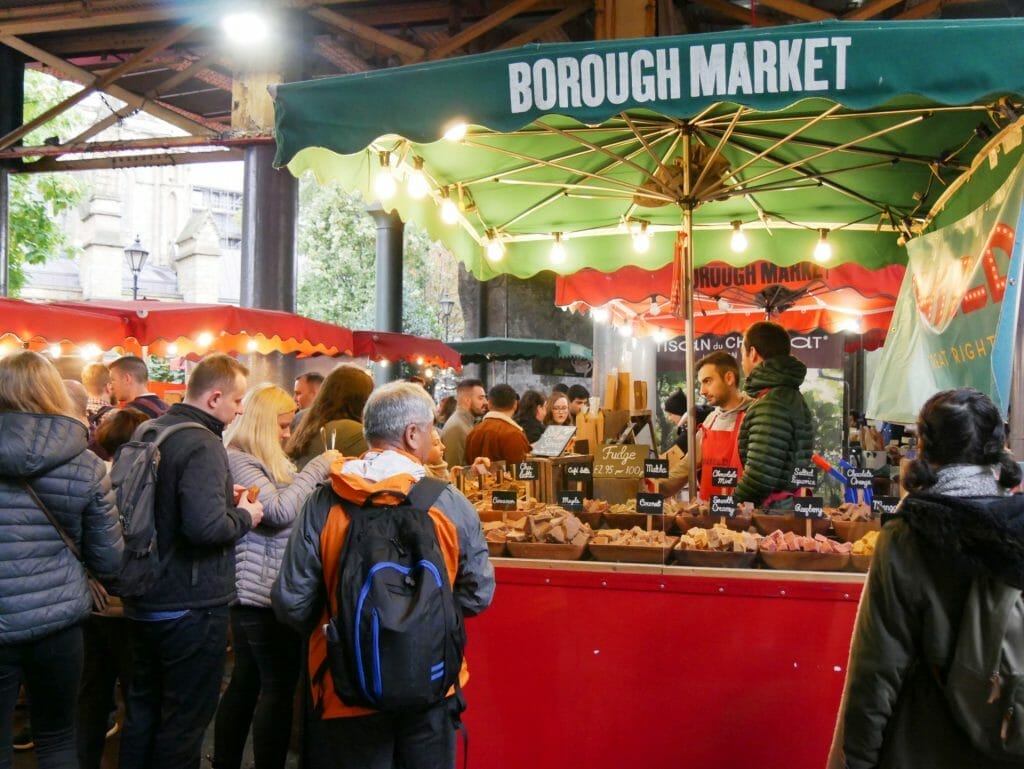 Borough Market has shorter opening hours than you would expect, as the market itself closes between 4 and 5pm most days (before dinner!).
Typically, you can expect a 10am opening time, with 9am being the exception on Saturdays.
However, it is open six days a week (closed on Mondays).
The opening hours change slightly throughout the year, with longer opening hours in December for festive shopping and a bit of extra hours in the spring and summer to take advantage of the daylight.
To make sure you have the full, up-to-date opening hour information, I would check directly on the Borough Market website.
Best Day to Visit Borough Market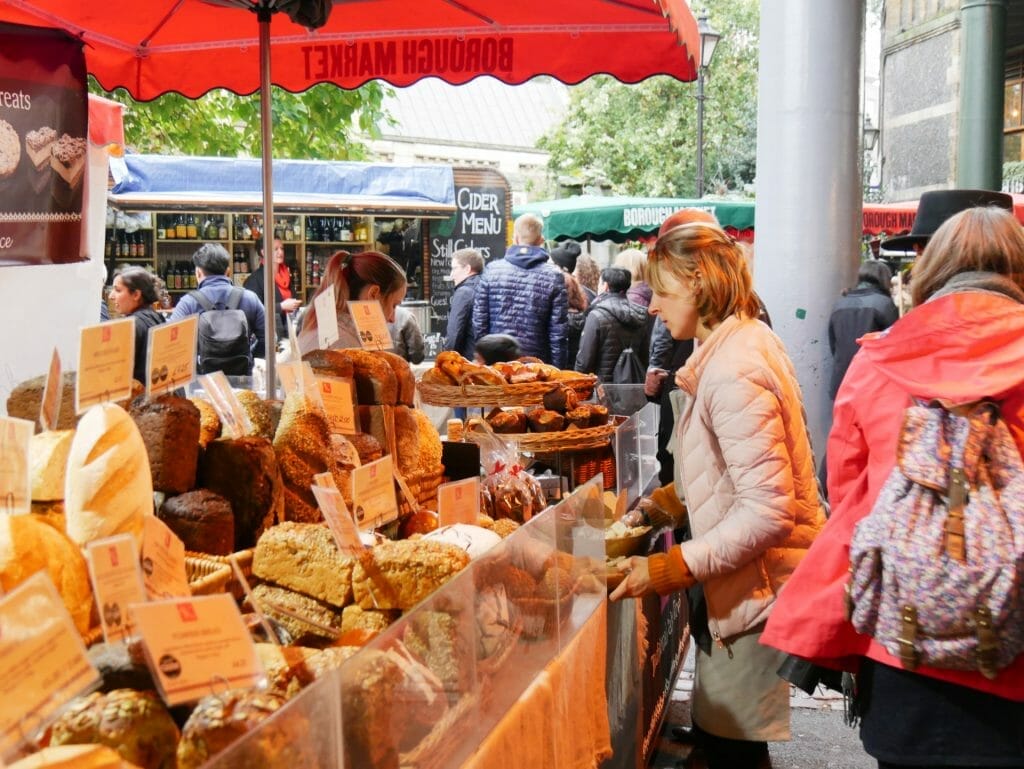 People often ask about the best day to visit Borough Market, and it depends what you're looking for.
If you're looking for a quieter experience where the market is easier to navigate, Tuesday through Thursday is your best bet.
Weekends get noticeably busier, which gives you more of a vibe and a chance to see live demonstrations and events.
For a best of both worlds scenario, I would say Friday is the best day to visit Borough Market as you have some of the locals coming out for a fun Friday lunch and start to the weekend, without the hordes of humanity that descend on the market when it's the actual weekend.
Best Time to Go to Borough Market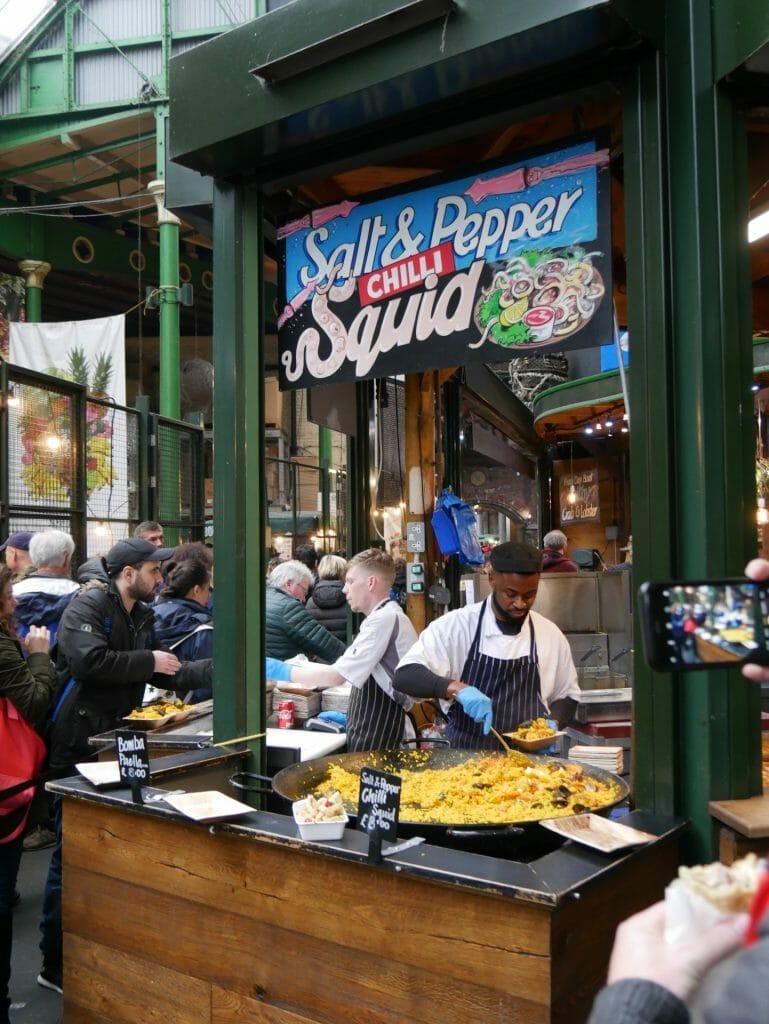 Should you go to Borough Market when it first opens, at lunchtime, or later in the day?
The best time to go on a weekday is 2-3pm, as you'll miss a lot of the lunch crowd, but there will still be a fun atmosphere that is a little lacking when it opens first thing on a weekday.
If you're going on a weekend, then I would actually spend the morning there rather than the afternoon, as this will be a better experience crowd-wise and you can finish up with lunch in the market before heading out as it gets even busier in the afternoons.
How to Get to Borough Market
The easiest way for visitors to get to Borough Market is by arriving by tube to London Bridge station.
Borough Market is right next to it, making it the most efficient way to arrive.
You can also take London buses and there are multiple London bus stops nearby (I always use Google maps to plan my public transportation route in London – just switch it to the public transportation option and follow it step-by-step!)
Borough Market Tours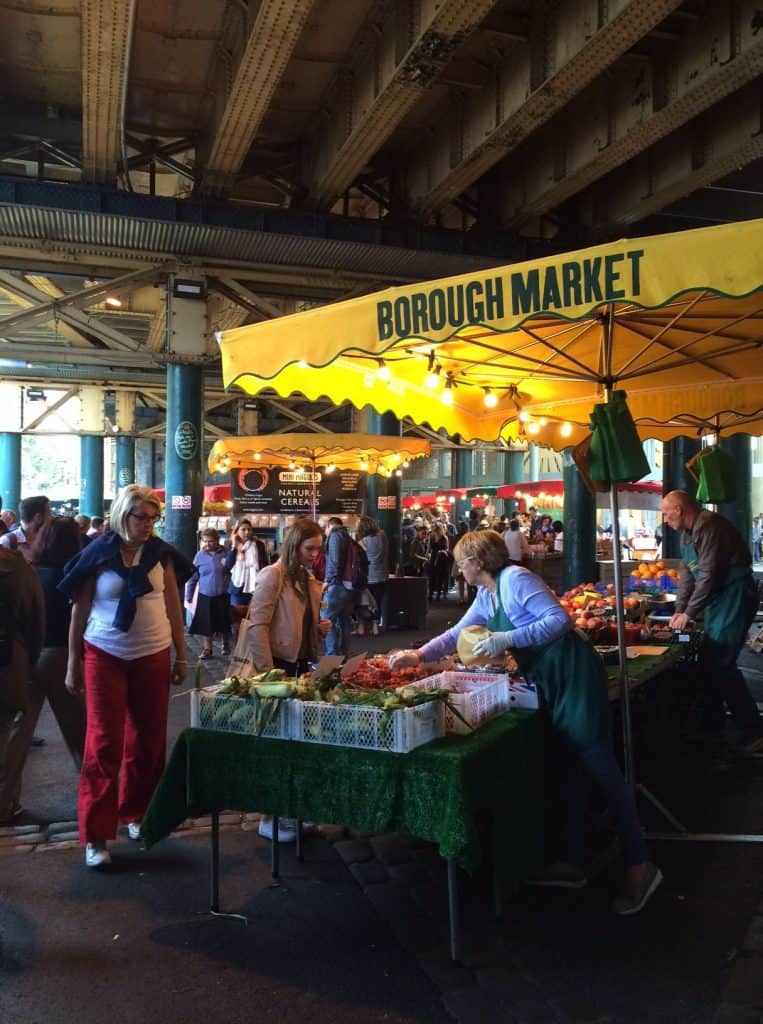 There's one iconic Borough Market tour that takes place with a company called Secret Food Tours, and if you have the time and consider yourself a foodie, this is a must-do.
They'll take you through so many different stalls, introducing you to local merchants and giving you a behind-the-scenes look at the market while you taste test your way through it (the way it's meant to be enjoyed!).
You'll also get a bit of a tour of the general London Bridge area, which means you can fit a lot into the 3+ hours of the tour.
I highly recommend it to everyone who comes to visit me in London, and not a single person has had a negative thing to say about it – because it's awesome.
You can find the availability and pricing here.
Borough Market Must-Eats
There are so many fantastic Borough Market stalls and restaurants, but I've put together a short (okay, as short as possible) list of some of my favorites!)
Borough Cheese Company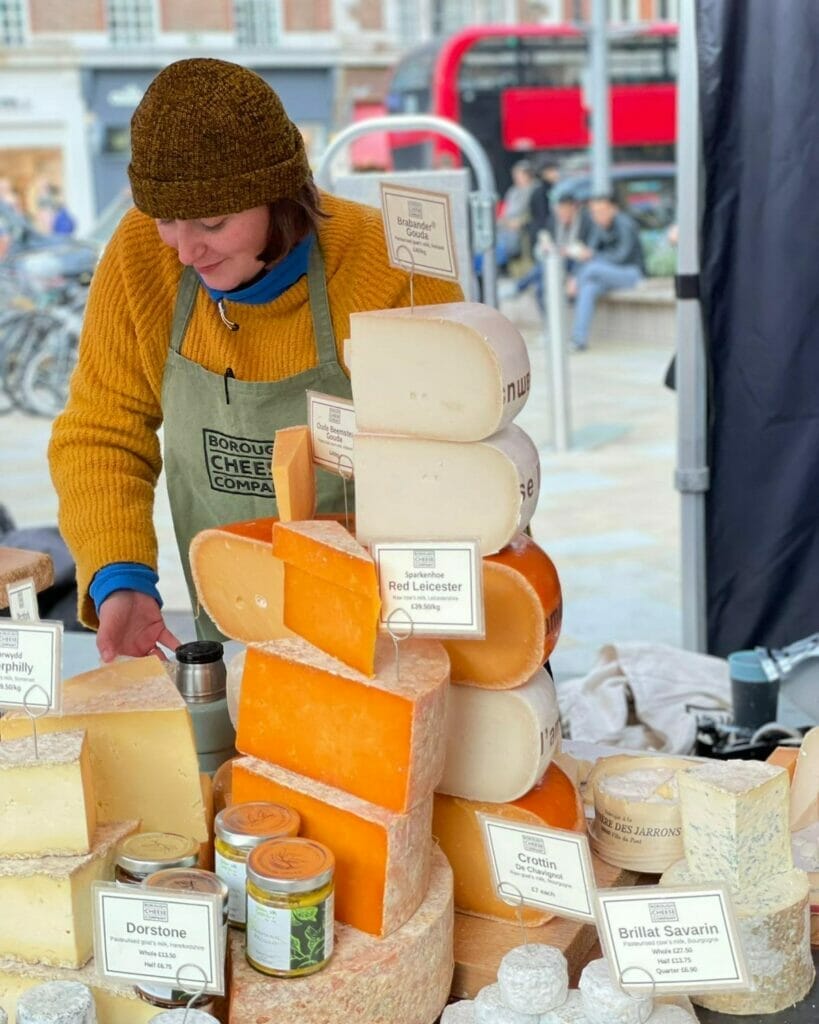 Ready to sample the best of the best when it comes to cheese?
Look no further than the Borough Cheese Company, where we get all of our cheeses when we want to serve up a fun tasting board or just indulge ourselves.
Borough Olives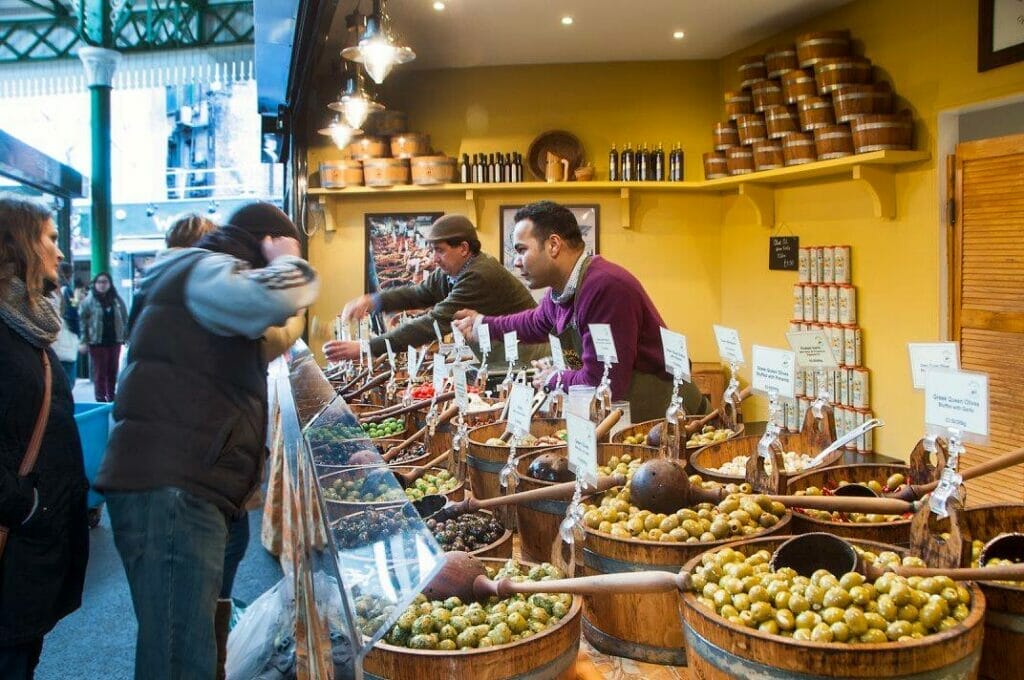 From olive olives to oil oil, Borough Olives is a really fun stall for the olive lover, and is a great place to pick up some fun gifts to take to someone's house as well – it's fancy, but approachable!
Gastronomica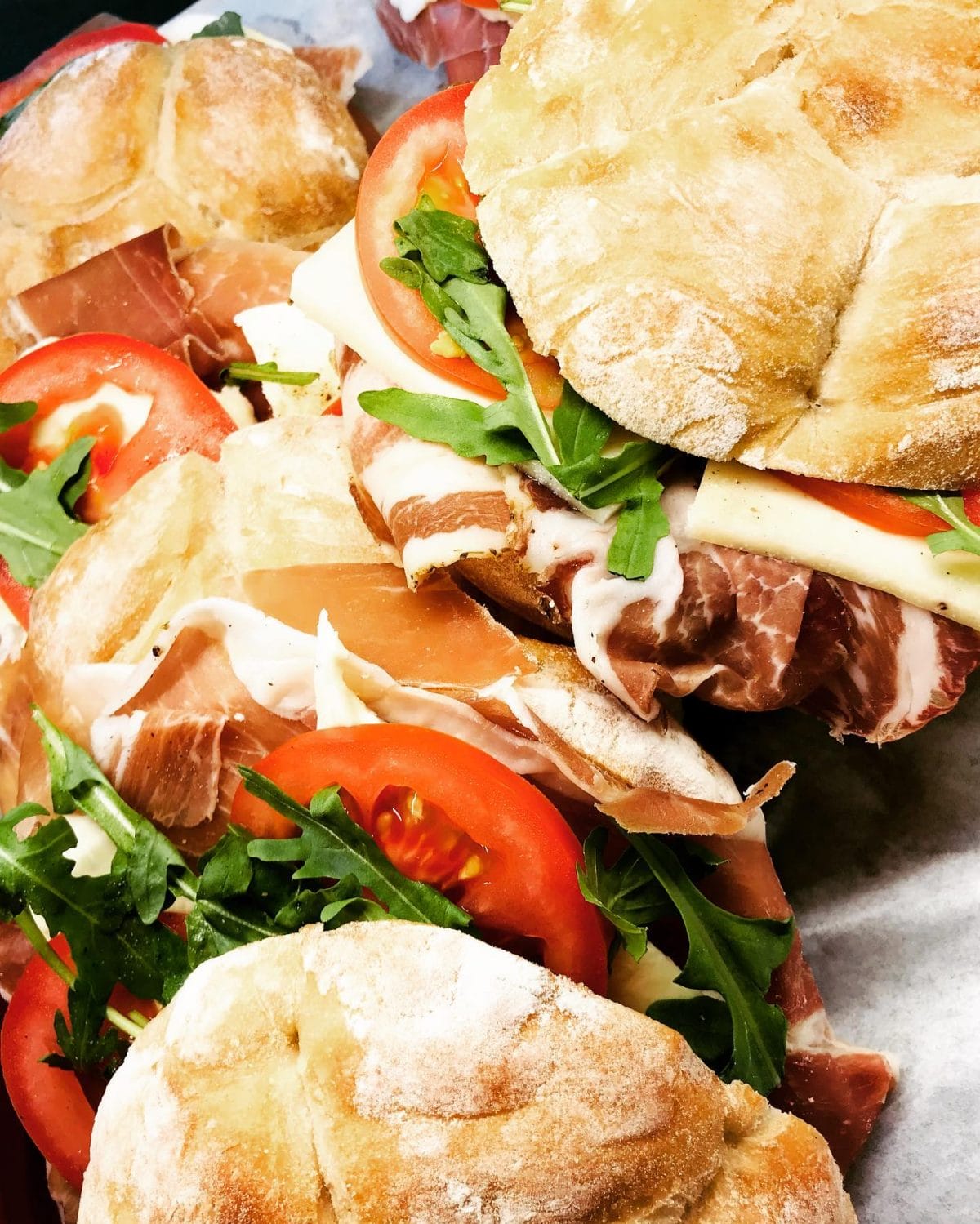 Italian food is the name of the game at Gastronomica, which focuses on quality and sourcing directly from artisan producers from all over Italy.
It's a taste of Italy in London, and it's amazing.
Gujarati Rasoi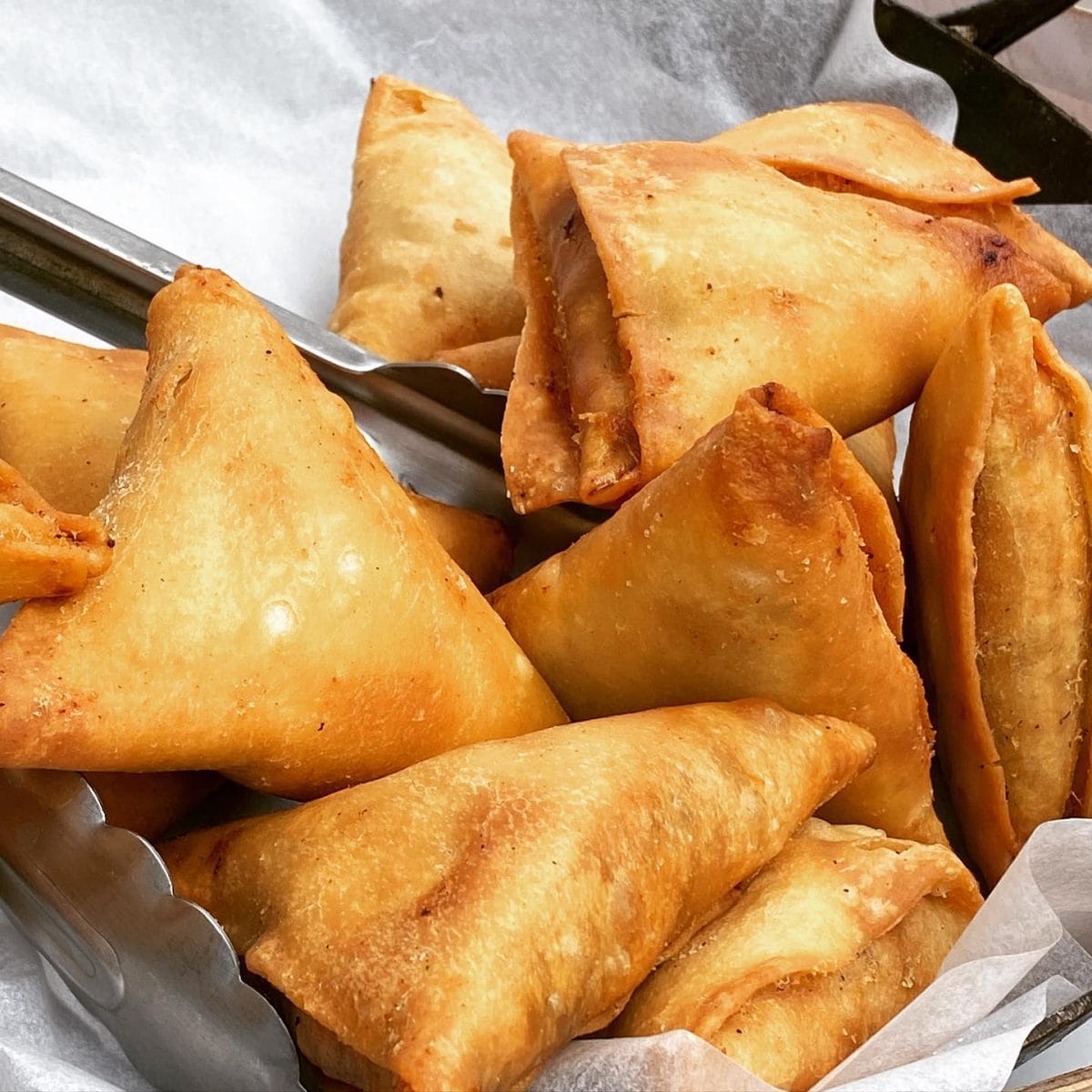 If you're in the mood for vegetarian food, this is the stall to eat at.
They've got everything from vegetarian curries to Indian street food and the traditional family recipes will get your tastebuds going in the best way possible.
It's a true family affair, and that's what makes this Indian food option in London so special.
Hobbs Roast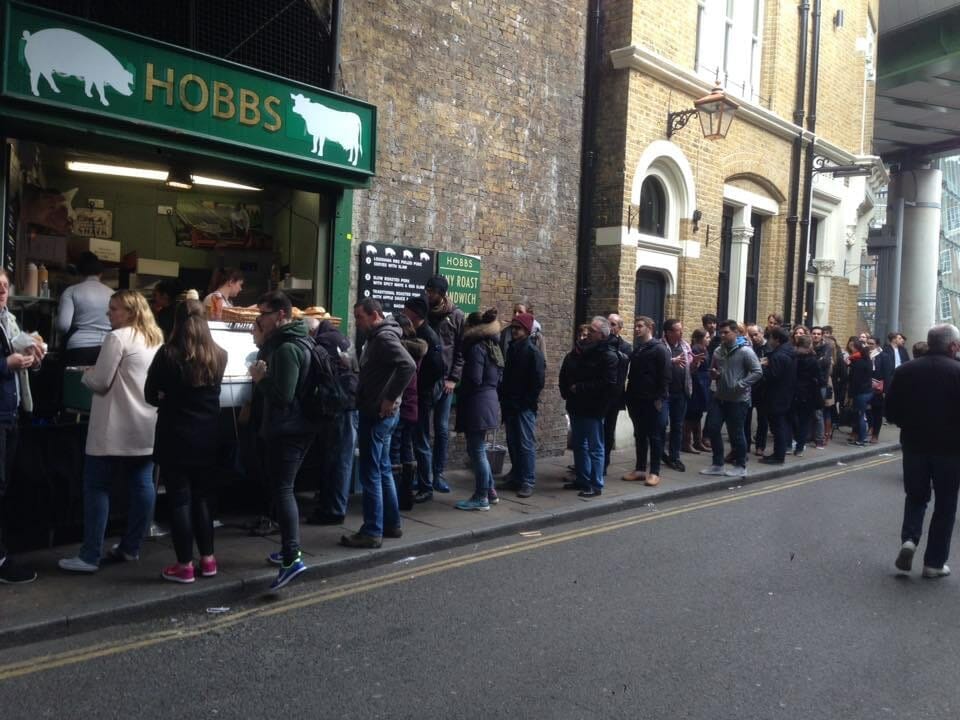 Choose from beef, turkey, or pork for your meat baguette from Hobbs Roast, one of the best sandwich options in the market.
They've got all the best flavor combinations, as well as a deservedly long line from hungry Borough Market visitors who want a taste of the magic themselves.
Khanom Krok
In the mood for Thai food?
This stall specializes in Thai street food, that you'll be able to eat on the go, and it's earned a big thumbs up from my Thai friends in the city.
Padre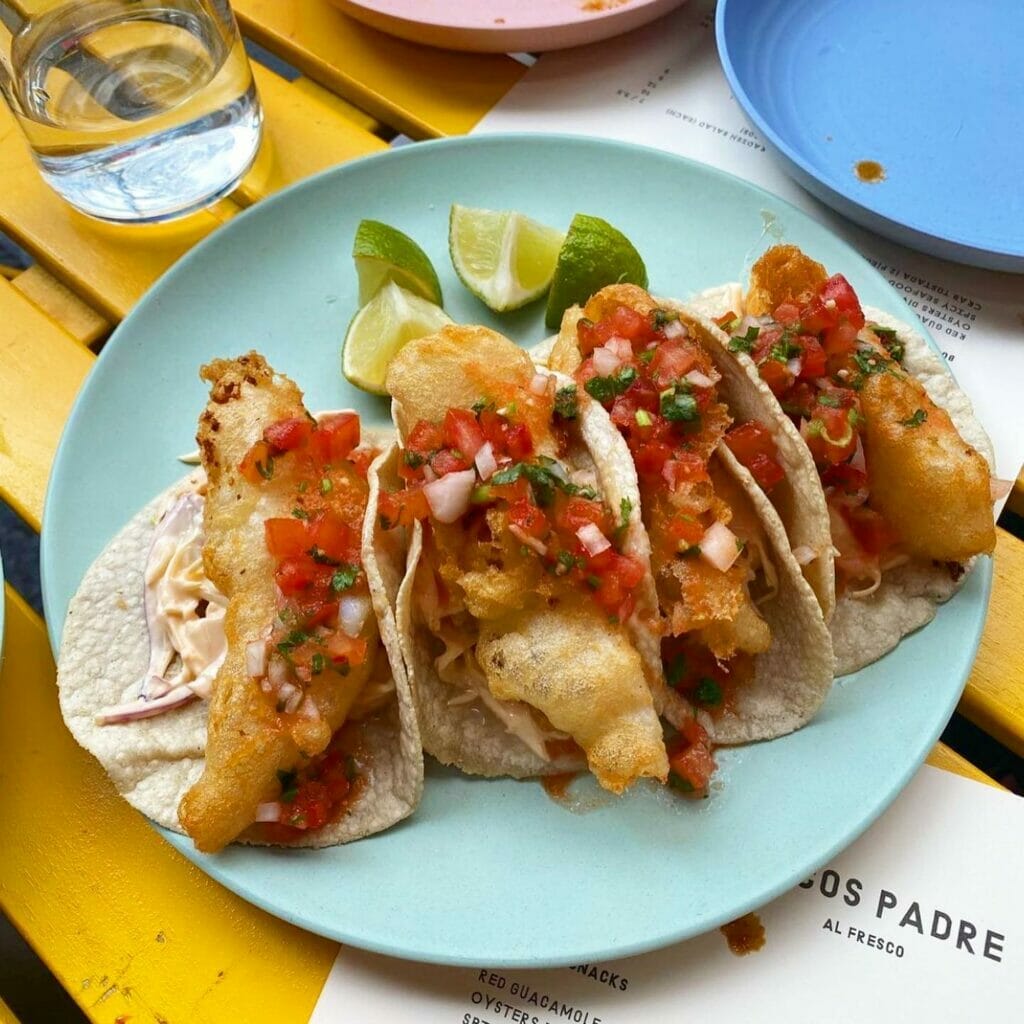 While London isn't known for its Mexican cuisine, Padre shines as a great Mexican food stall in Borough Market and this is one of the best places I've found to indulge in my favorite food – tacos.
So Chocolicious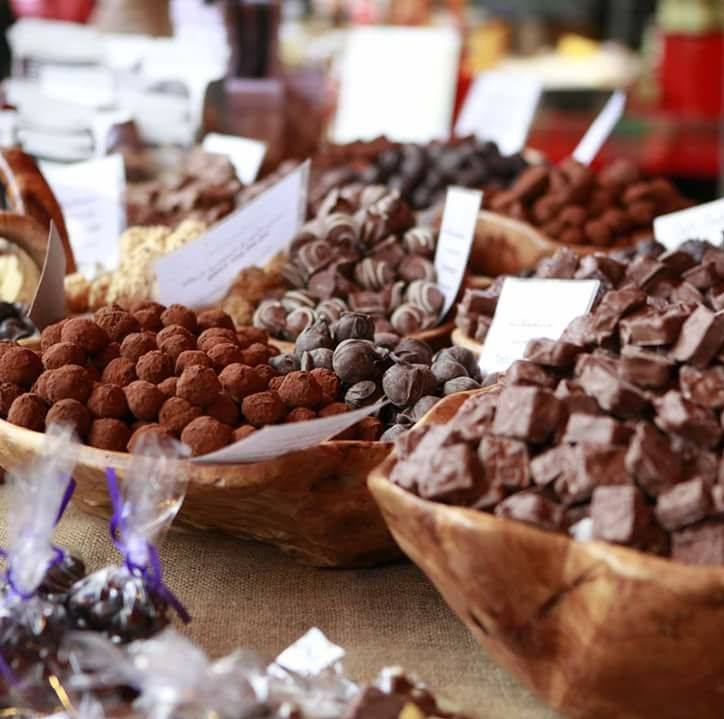 Want dessert?
This truffle and chocolate stall is the one to go to when you want something sweet to finish off your meal, or maybe just some to take home with you later to eat in the hotel room or at home (no judgement, buy as many as you want).
The Flour Station
If you're looking for fresh bread, the Flour Station is the place to go.
Enjoy artisan breads and wonderfully baked goods from The Flour Station.
The Free From Bakehouse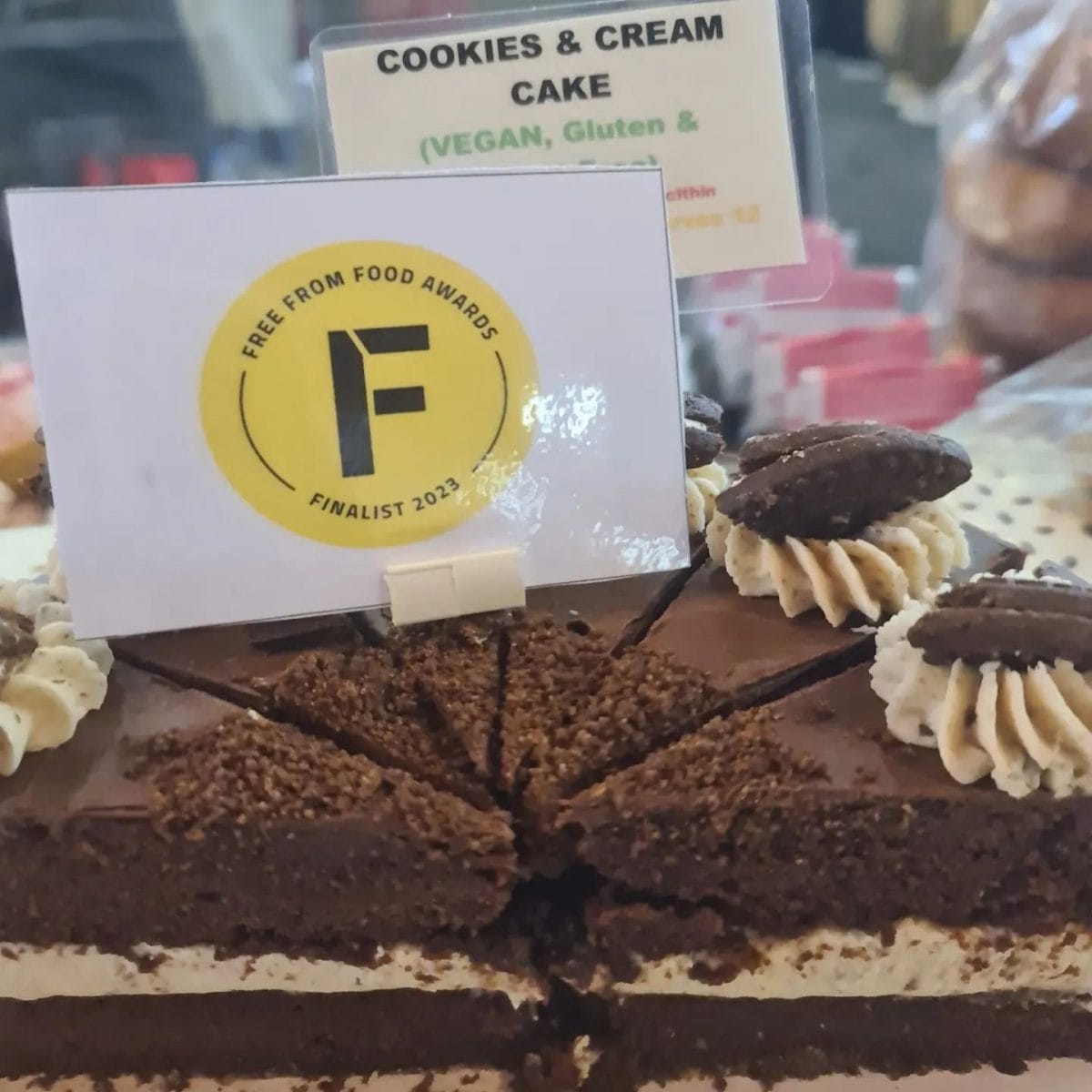 Got allergies or other dietary requirements?
The Free From Bakehouse sells plenty of baked goods and desserts that you'll be able to enjoy, with easy labeling and a commitment to making sure that everyone can enjoy the market no matter their health or lifestyle restrictions.
Things to Do in Borough Market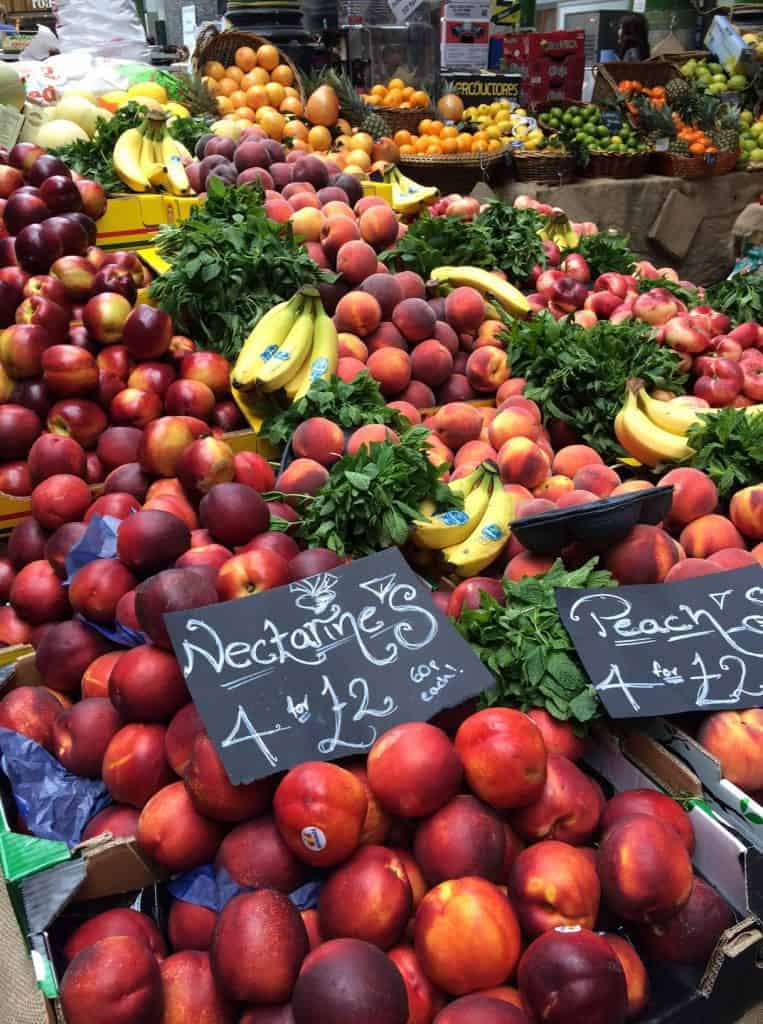 Besides, well, eat, there are a few fun things you can do in Borough Market!
Take a Tour
As mentioned above, there are tours available in Borough Market, which is a great way to feel like you have a plan and a guide to help you experience the best of the market.
Attend an Event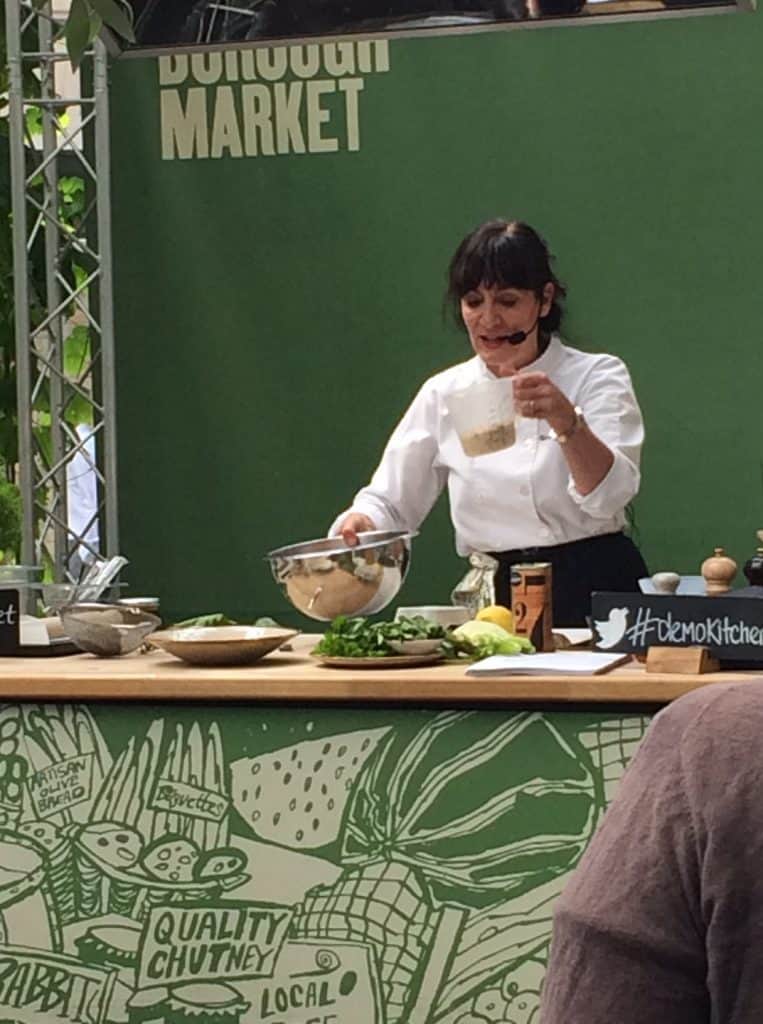 Borough Market hosts regular events, especially in the summertime, so check the schedule on their website to see if there's anything happening while you're there.
Do Your Own Photo Tour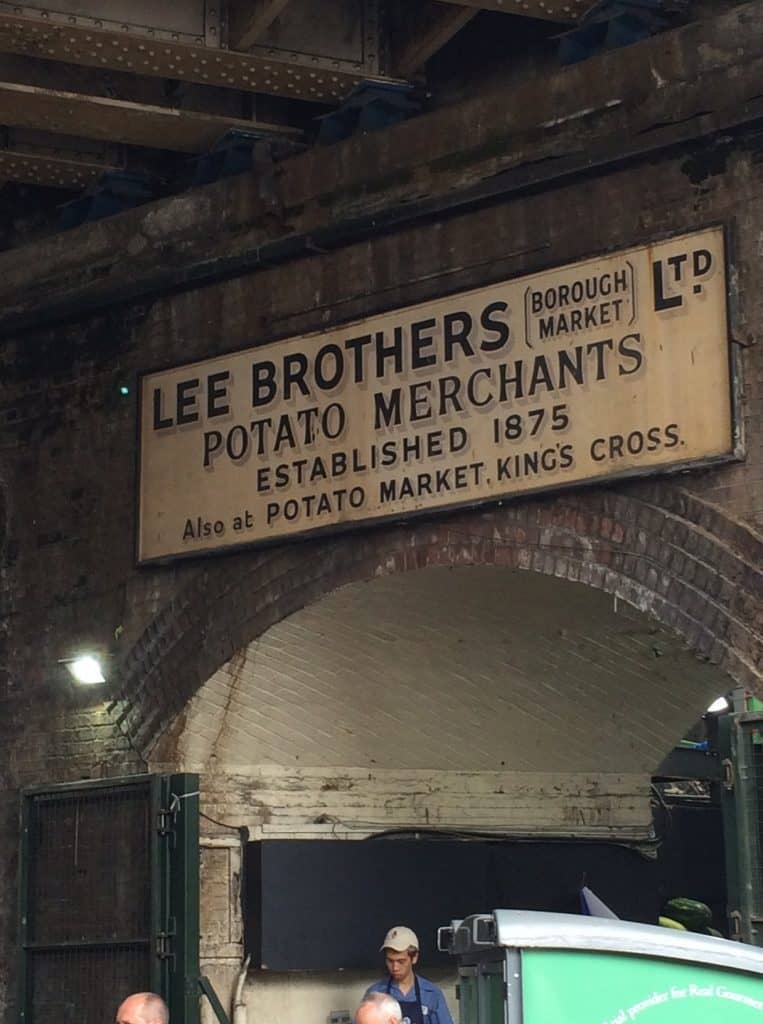 If you're a photographer, or just someone who loves a good Instagram snap, Borough Market is the place to go.
Not only is the food wonderfully photogenic, but the history and architecture of the market makes for some great shots.
Get Drinks in the Pubs
Borough Market is surrounded by pubs and restaurants, so if you head to the market a couple hours before closing time to get some food, you can then pop into a pub after it closes for a catch up with friends or to sit down and digest (literally and figuratively) everything you've seen and eaten!
Local Tips for Borough Market
As a local, I can tell you that aside from the tips and tricks on the best time to visit Borough Market, there are a few other things to keep in mind!
Borough Market typically hosts talks, events, and cooking demonstrations on weekends, so if you want to see what else is on offer, plan your visit around that.
There isn't a ton of space to sit down and eat anywhere – there are some benches and sitting areas, but not enough to cater for most people. Plan to do a walk-and-eat experience as you stroll your way around.
Come hungry. Borough Market doesn't just have things like fruits or vegetables or chocolates – many of the stalls have fresh, full meals to enjoy, so don't expect to just nibble. Expect to stuff your face.
Along the lines of stuffing your face, it's a good idea to bring a backpack or bag that you can use to put treats for later in, like buying chocolates for dessert and not eating them until later or picking up some fantastically fresh bread or other items that you won't necessarily eat as a meal right then and there.
Borough Market Parking
If you're driving to Borough Market, firstly you should know that it's very hectic driving in central London so you'd be better off parking outside of London and taking public transportation in.
If you do definitely need to drive, though, Borough Market doesn't have its own parking, but there are public parking lots nearby.
Two to look up are Union Car Parks and Snowfields NCP.