This post contains affiliate links for which I may make a small commission to help keep the site running. You will not be charged extra for these items had you not clicked the links. Thank you for your help to keep the site running!
One of the things I had been dying to do when I visited Disneyland Paris at Christmas was Buffalo Bill's Wild West Show.
This dinner entertainment, the biggest of all dinner shows at Walt Disney World, is located in Disneyland Paris's Disney Village and includes lots of animals, Disney characters, and food.
What's not to love?
In this review of Buffalo Bill's Wild West Show at Disneyland Paris, I'm going to take you through our experience and give some recommendations on making the most of this awesome and unique Disneyland Paris experience.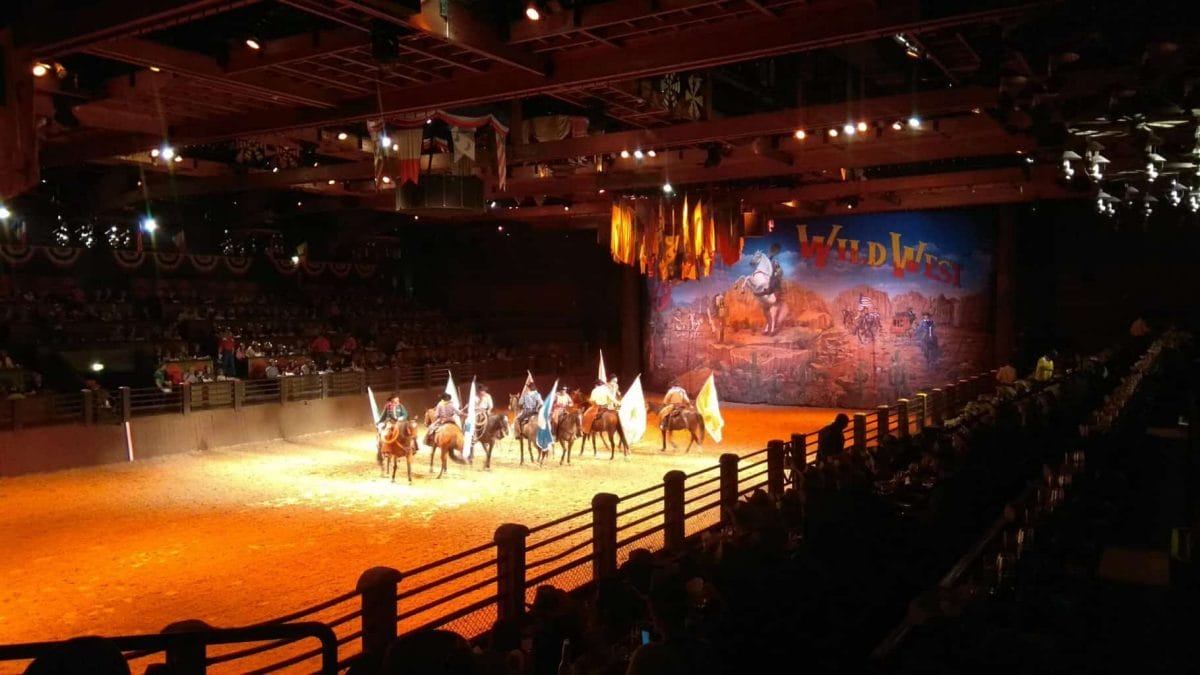 Buffalo Bill's Wild West Show History – Disneyland Paris
The history of Buffalo Bill's Wild West Show at Disneyland Paris goes back to April of 1992, when Disneyland Paris opened to the world.
Buffalo Bill's has been a staple part of Disney Village, which is essentially Disneyland Paris's version of Disney Springs/Downtown Disney.
In fact, before you get to Disneyland Paris's hotels like Hotel Cheyenne, once you get off the train that connects you from London to Disneyland Paris, you'll see Disney Village first.
Buffalo Bill's Wild West Show Pre-Show Review
When you get to Buffalo Bill's and check-in, you're given both a cowboy hat to wear for the night (which my husband was super excited about) and a color.
This color indicates what section you'll be seated in and what team you'll be in.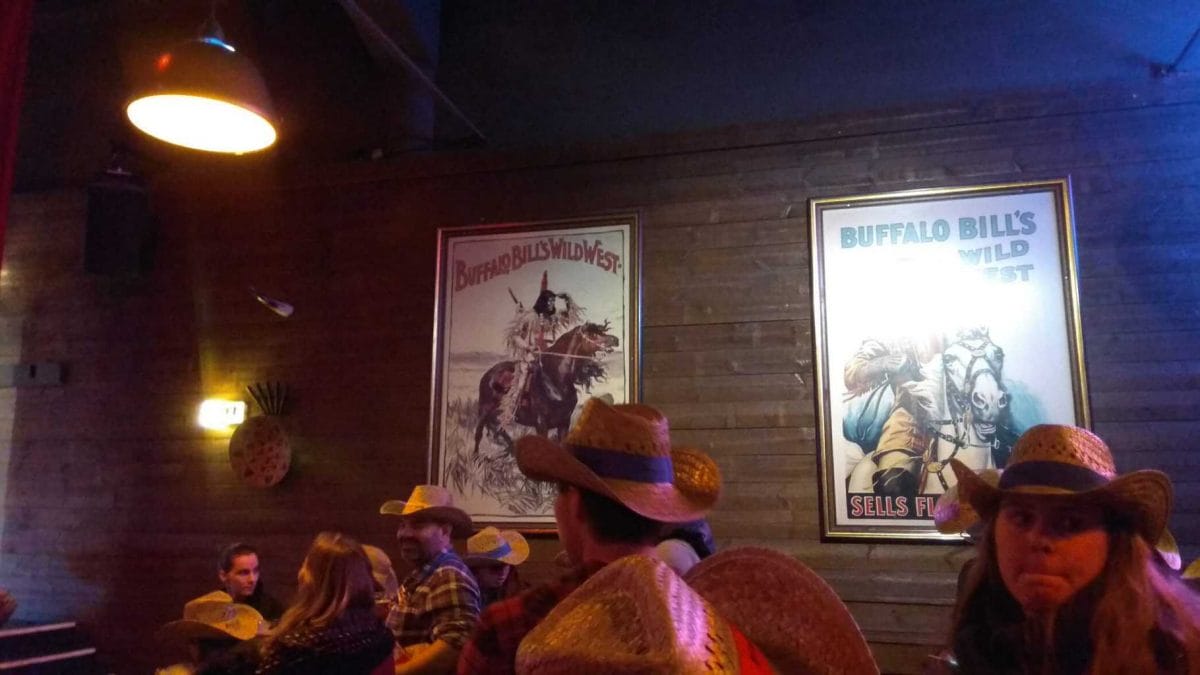 As you make your way in, there are a couple of photo opportunities, and then there is a bar and a stage.
You're asked to arrive quite a bit before the show starts, and while you wait there is a preshow featuring a band singing classic American "western songs," and you may even be joined by a Disney character or two!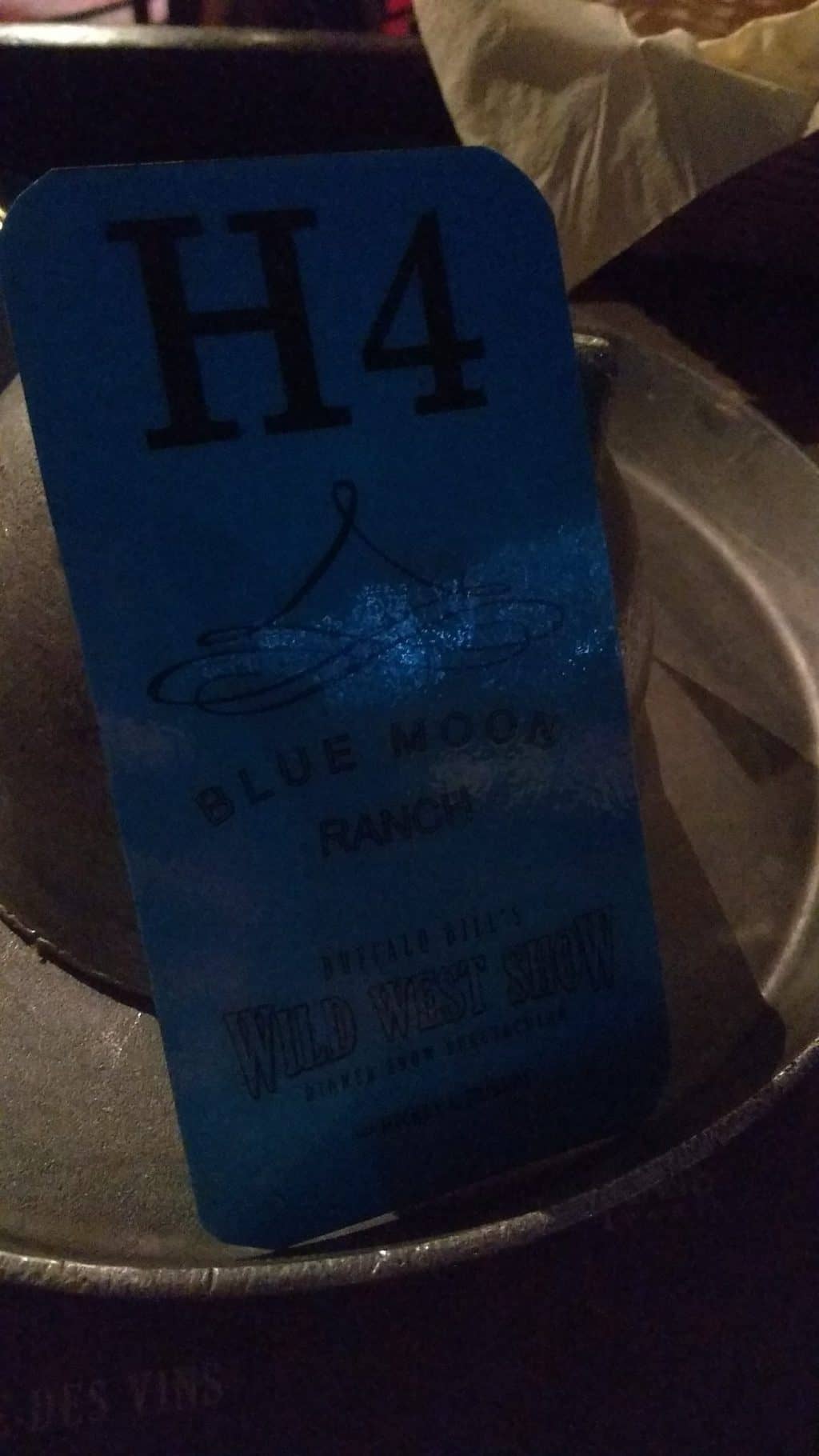 We used this as a chance to take some photos and get into the spirit of things.
It's a nice way to give people time to check-in and filter into the venue while having something to listen to and watch.
It's obviously not meant to be a full show unto itself, but some "are you ready for this?!" entertainment.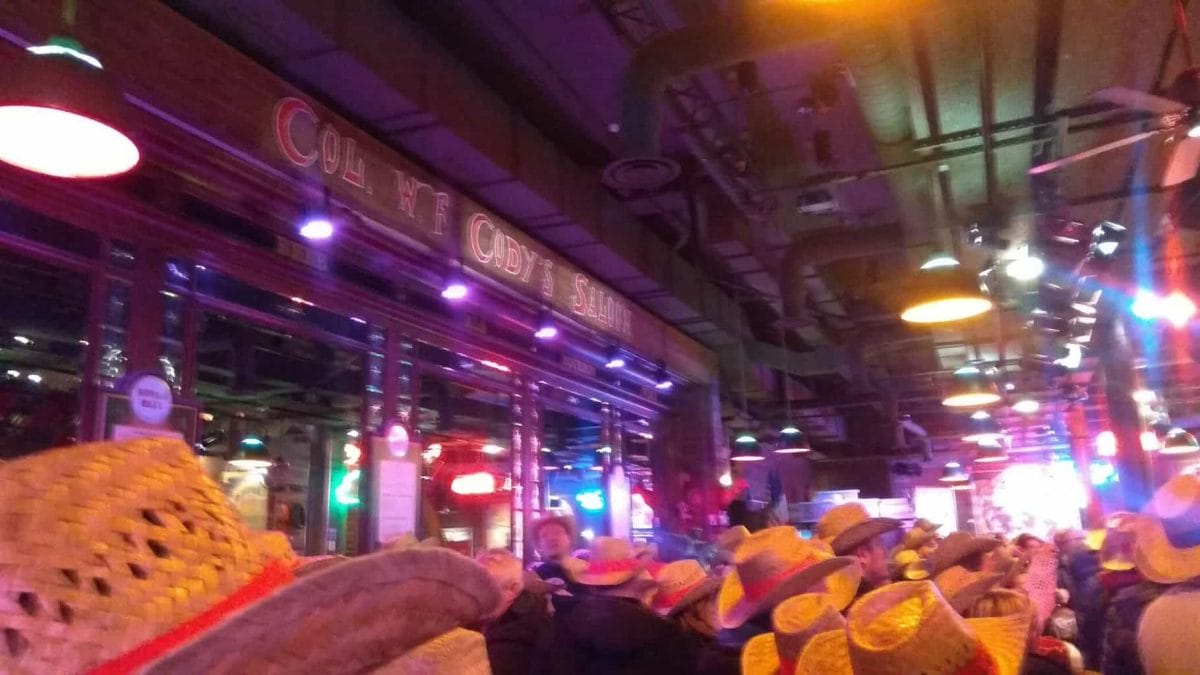 Buffalo Bill's Wild West Show Entertainment Review
Once it's time to go into the arena, you are told to line up by a different set of stairs depending on your color.
We were blue (my favorite), and we were one of the last to go in.
You'll first be shown to your seat, which are long benches overlooking the main arena.
Once everyone is seated, the show begins and you're treated to a show filled with actors portraying famous American western characters such as Buffalo Bill and Annie Oakley, along with shooting contests, and team games played with Disney characters.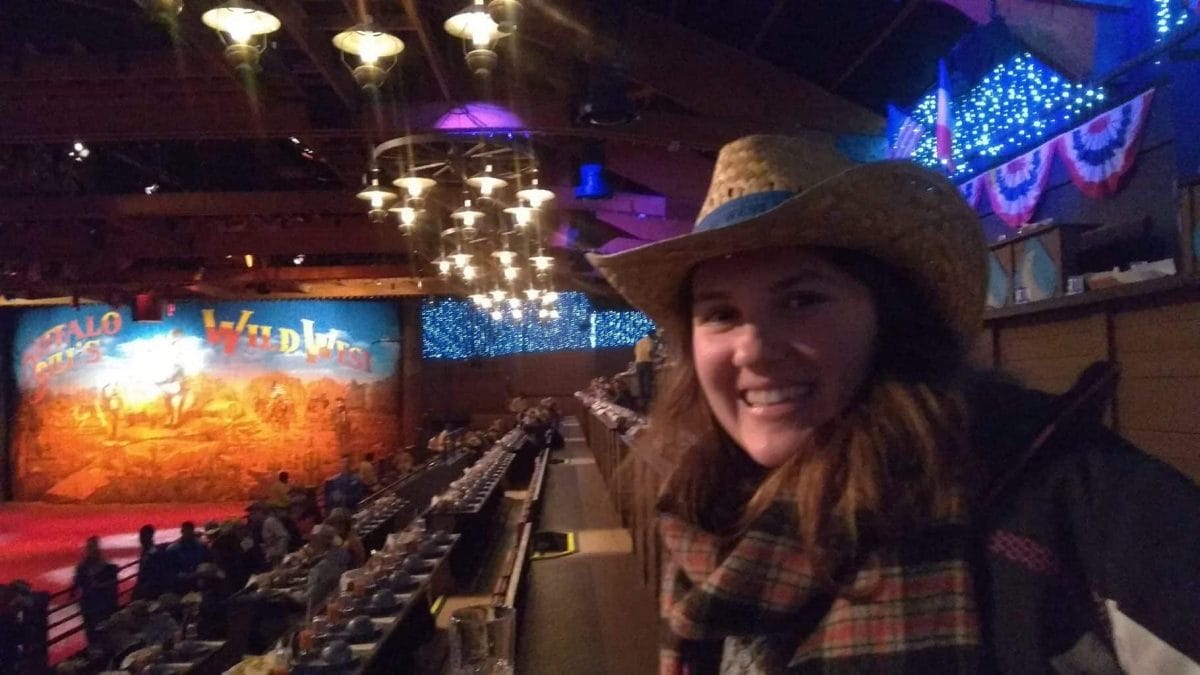 There are also plenty of stunts to enjoy, as well as cast members tasked in getting the crowd into the spirit of things.
All manners are out the window, and you're supposed to be slamming your hands down on the table, stomping your feet, and yelling "Yee-haw" more often than you typically would in normal life (hopefully).
One thing I should mention in this Buffalo Bill's Wild West show review is that I was a bit worried the entertainment would be too cheesy for an adult couple, or only be interesting if you have kids.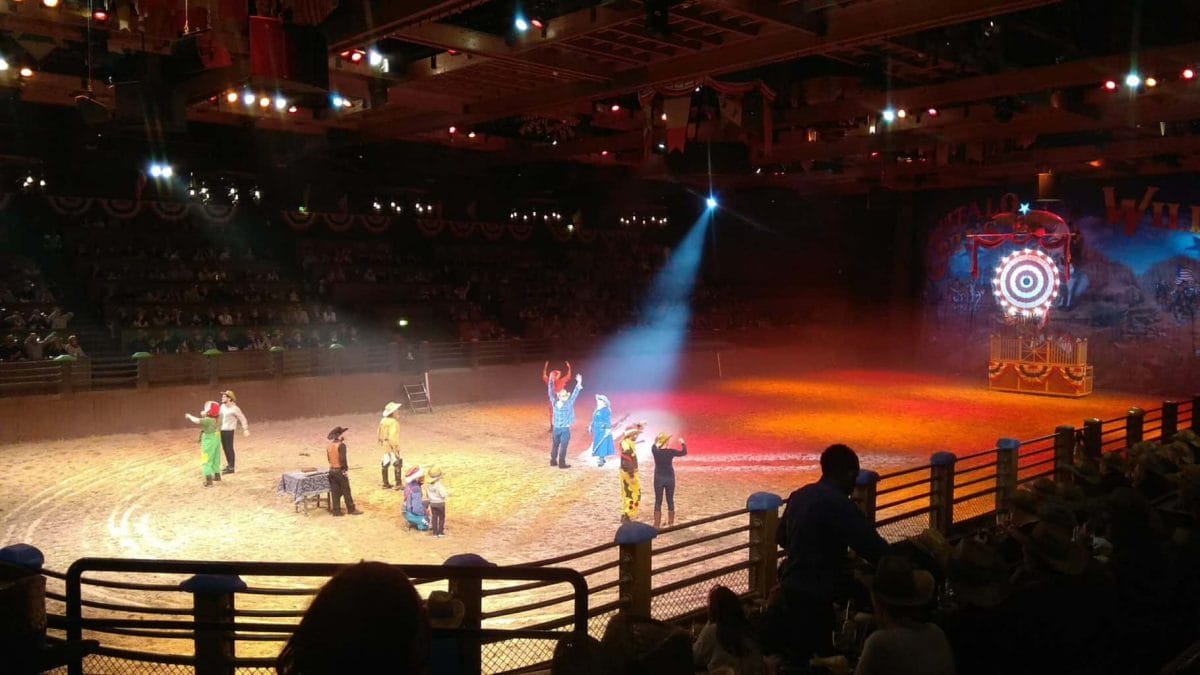 Luckily, this wasn't the case.
Yes, it was a little hokey – it's a stereotypical portrayal of the American wild west at Disneyland Paris, duh!
But we went in with the mindset that we were going to have fun and get into it, and it was awesome!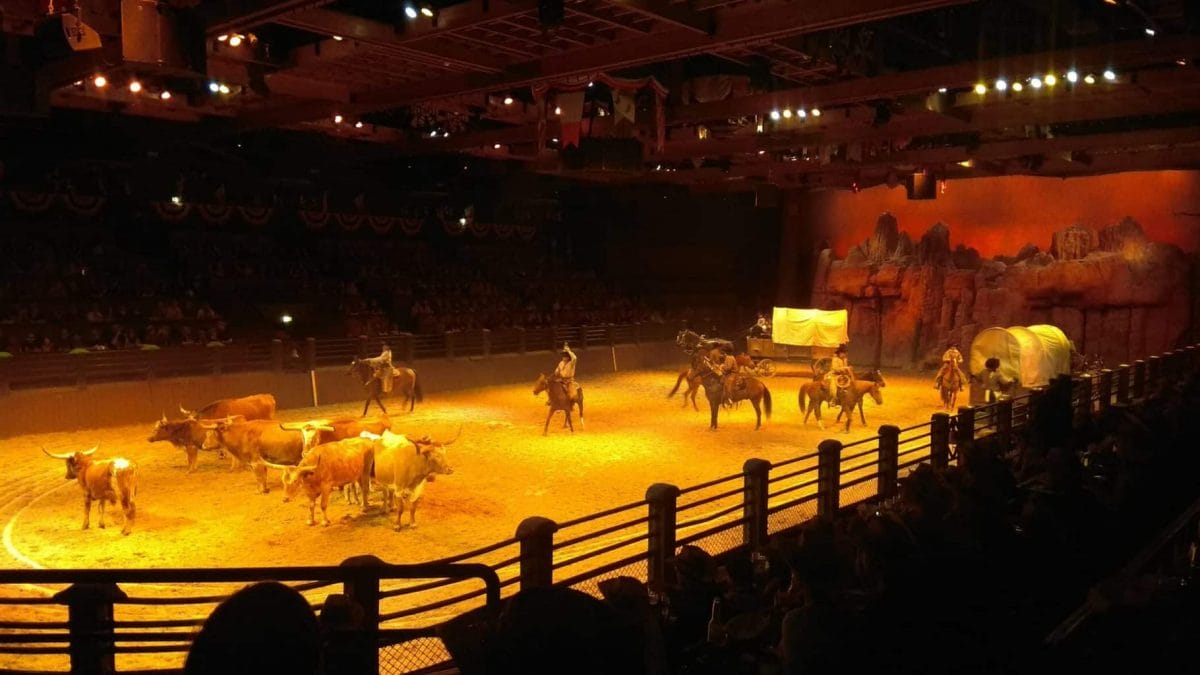 The cast did a great job at getting you into the action rather than simply putting on a show and having you watch from the sidelines.
It also helped to have the animals part of the show and engaged in the action, as horses are an essential part of any wild west themed event.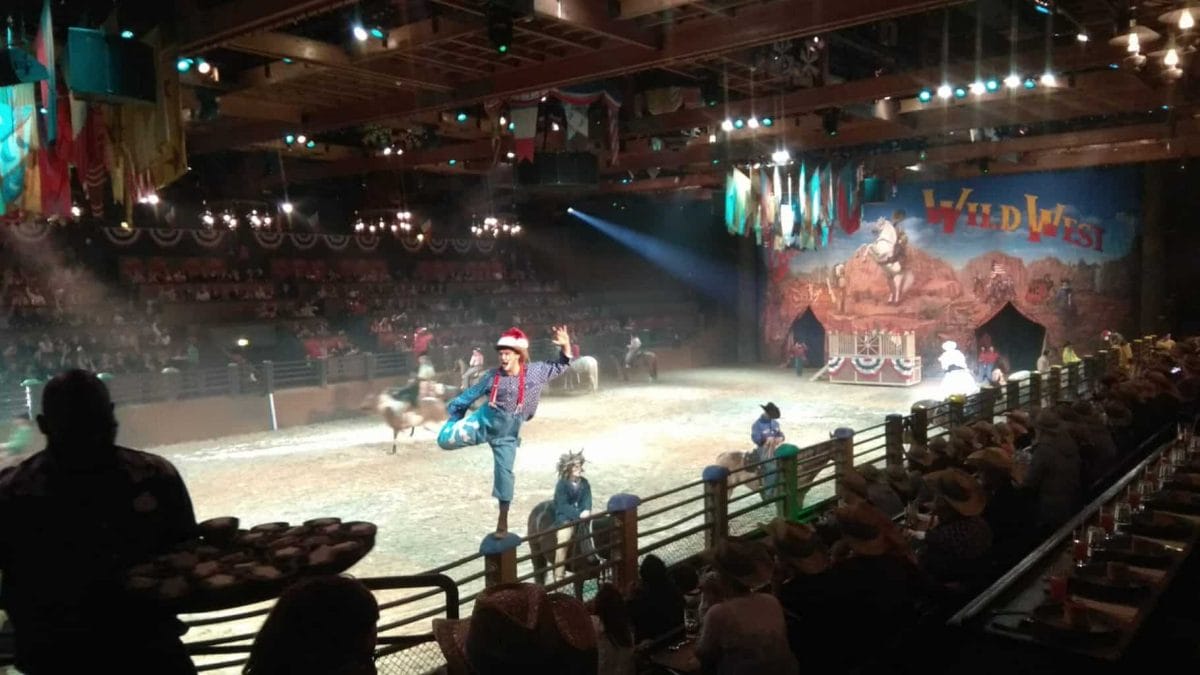 Buffalo Bill's Wild West Show Food Review
Buffalo Bill's is a dinner show at Disneyland Paris, which means that you get a full meal (appetizers, an entree, and dessert and drinks) as part of your entrance.
I'll list a full menu below, but as for the quality of the food at Buffalo Bill's Wild West show, I have to say – so good! It was really delicious, and the serving of the food in a skillet went along perfectly with the theme.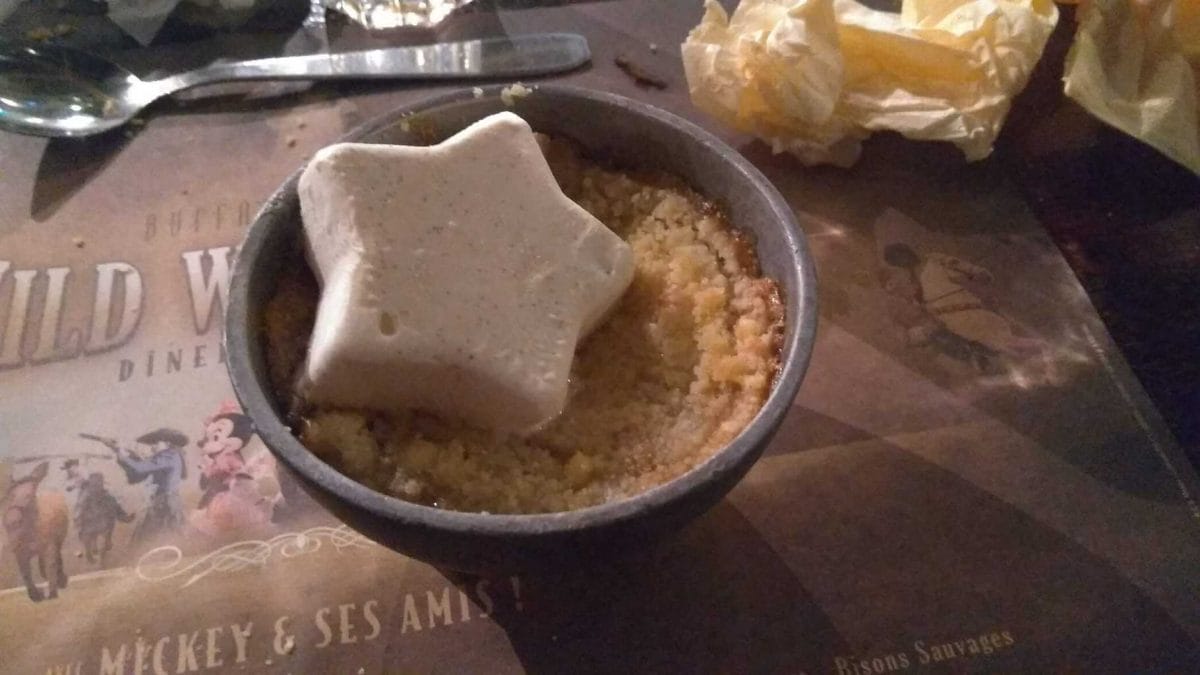 It was hot, fresh, and the waiters made sure to come around often to replenish our drinks (soda or beer).
You do have silverware, so you don't have to eat with your hands if you don't want to, but it's highly encouraged if you want to get into it.
Of cousre it wasn't a gourmet meal – that's not how it advertises itself either.
It's a hearty meal and plenty of food to fill you up, even if it doesn't look like it when it's laid out in the skillet.
Buffalo Bill's Wild West Show Menu
The current menu, according to Disneyland Paris's website is:
Cornbread
Chili
Texan skillet (meat)
Potato Wedges
Warm Apple Dessert with Vanilla Ice Cream
Buffalo Bill's Wild West Show for Vegetarians
Vegetarians are catered for at Buffalo Bill's West West show, which is great as it's not always the case in France that this is an option for people.
But of course it's Disneyland, so they do what they can to help their audiences out.
I opted for the vegetarian meal, and I told them this when I checked in.
They gave me a card that I needed to display in front of me that let the server know they should give me the vegetarian option.
Instead of the Texan skillet meat, I had a lot of vegetables that hit the spot.
Buffalo Bill's Wild West Show Duration
Buffalo Bill's Wild West Show in Disneyland Paris lasts for about 1 hour and 30 minutes.
Buffalo Bill's Wild West Showtimes
Buffalo Bill's isn't on every single night, so you'll need to plan ahead to make sure it's on during your stay, but when it is on, they have two showings per night.
The showtimes are at 6:30pm, and then again at 9:30pm.
We went to the second showing, as it was a cheaper price and it gave us more time to spend in the parks.
It wasn't completely full, but it was plenty full enough to create an atmosphere.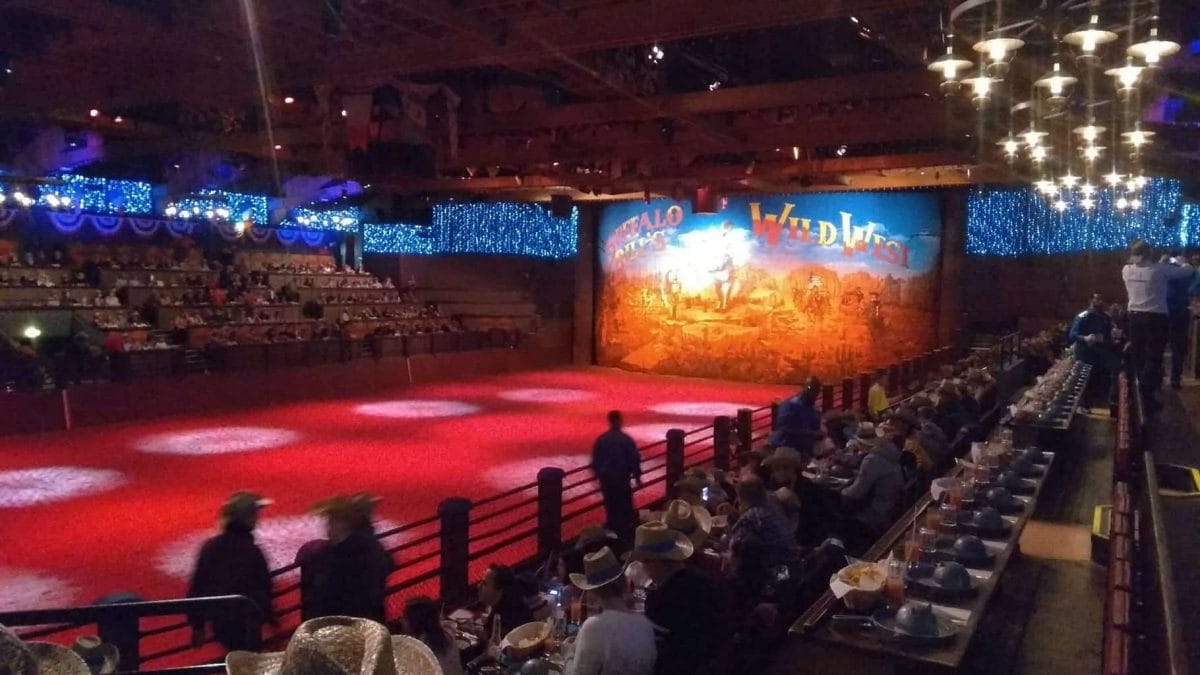 Buffalo Bill's Wild West Show Tickets
You can book tickets in two different categories: Category 1 and Category 2.
Category 1 tickets are the ones closer to the front, but to be honest I would not recommend spending extra to get Category 1 tickets, as everyone in the arena has a great view due to the stadium seating AND being in Category 1 would be a bit too close to the dust for me.
You can book directly through Disneyland Paris, but I would recommend booking with another booking agent online ahead of time to save money.
AttractionTix is a popular option for UK residents, but we actually booked ours through Ticketmaster France and got them for much cheaper than the standard prices.