Be Our Guest Lunch Review
Be Our Guest restaurant opened in 2012, and unless you've been living under a rock, you've likely heard about it. It's the restaurant inside the Beast's castle in New Fantasyland in Disney World's Magic Kingdom park, and Beauty and the Beast lovers (and others) have been obsessed with it ever since opening day.
Have more questions about planning your Disney vacation? Click here to join the best Disney Facebook group around filled with tips, tricks, and people ready to help answer your questions!
Back when Be Our Guest first opened, you used to either half to have a "Fastpass" for lunch, or you could wait in a very very very very VERY long line.
Today, you need advanced reservations for all dining experiences, though sometimes on a very quiet day you may be able to make a last-minute reservation at the desk if you want to eat at a weird time (but seriously, do not count on this!)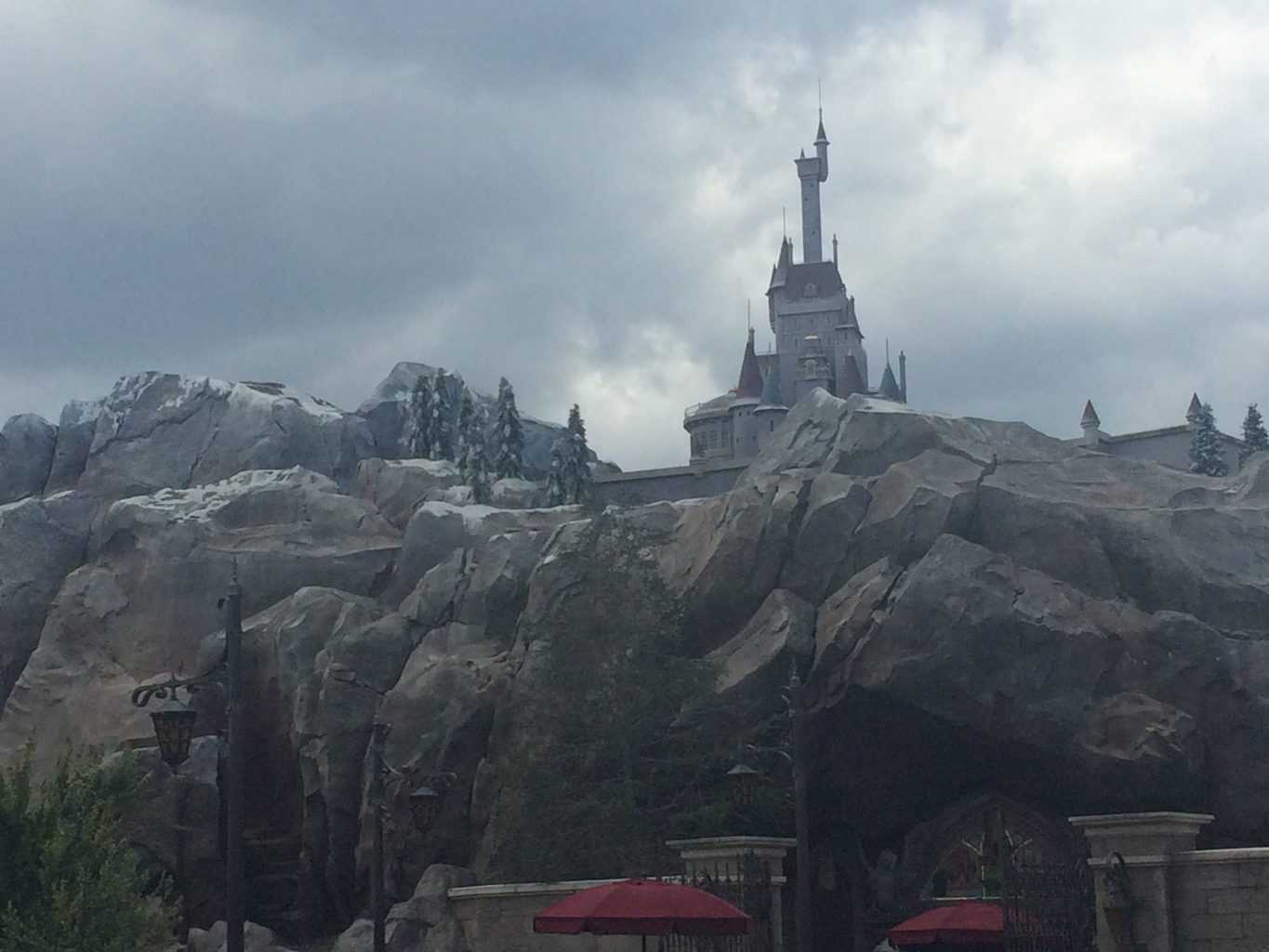 This Be Our Guest lunch review is all about one of the quick service portions of the day, as Be Our Guest restaurant operates as quick service for breakfast and lunch, and table service for dinner.
While the table service takes place in the same location, the experience would be much different due to the different menu, the presence of the Beast at the meal, and the different way you order and are served.
Be Our Guest Lunch Reservations
To make reservations for Be Our Guest, you need to go to the Disney website here – you can do this 180 days in advance of the date you're booking for, unless you're staying on-site and then you can do it 180 days + 10 days (so essentially until the end of your vacation or until 10 days into your vacation if you're staying longer than 10 days).
If you don't manage to make reservations right away, always keep checking back.
You can use tools like Mouse Dining to alert you to an opening, and you can also check the day before as many people release reservations 24 hours in advance so as to not have to pay the no-show fee if you do not show up at your reservation ($10 per person on the reservation).
This is how I've gotten the majority of my Be Our Guest lunch reservations, seeing as how I don't usually know I'm visiting that far in advance.
Be Our Guest Lunch Hours
Be Our Guest serves lunch from 11:00am to 2:30pm every day of the year.
Be Our Guest Lunch Menu
Below you'll find the Be Our Guest Lunch Menu from June 2018, but it tends to not vary too much.
I usually go for the turkey sandwich or the grilled cheese sandwich, both of which are good, not great. The turkey sandwich is pictured below. The vegetable quiche and braised pork are both good as well.
For dessert, you can't go too wrong as the cupcakes are delicious, if not overpriced. But hey, if this is your once-in-a-lifetime chance to sample "the grey stuff" (it's delicious, don't believe me? Ask the dishes!) in the Beast's castle, then just spend the $4.99 and enjoy yourself.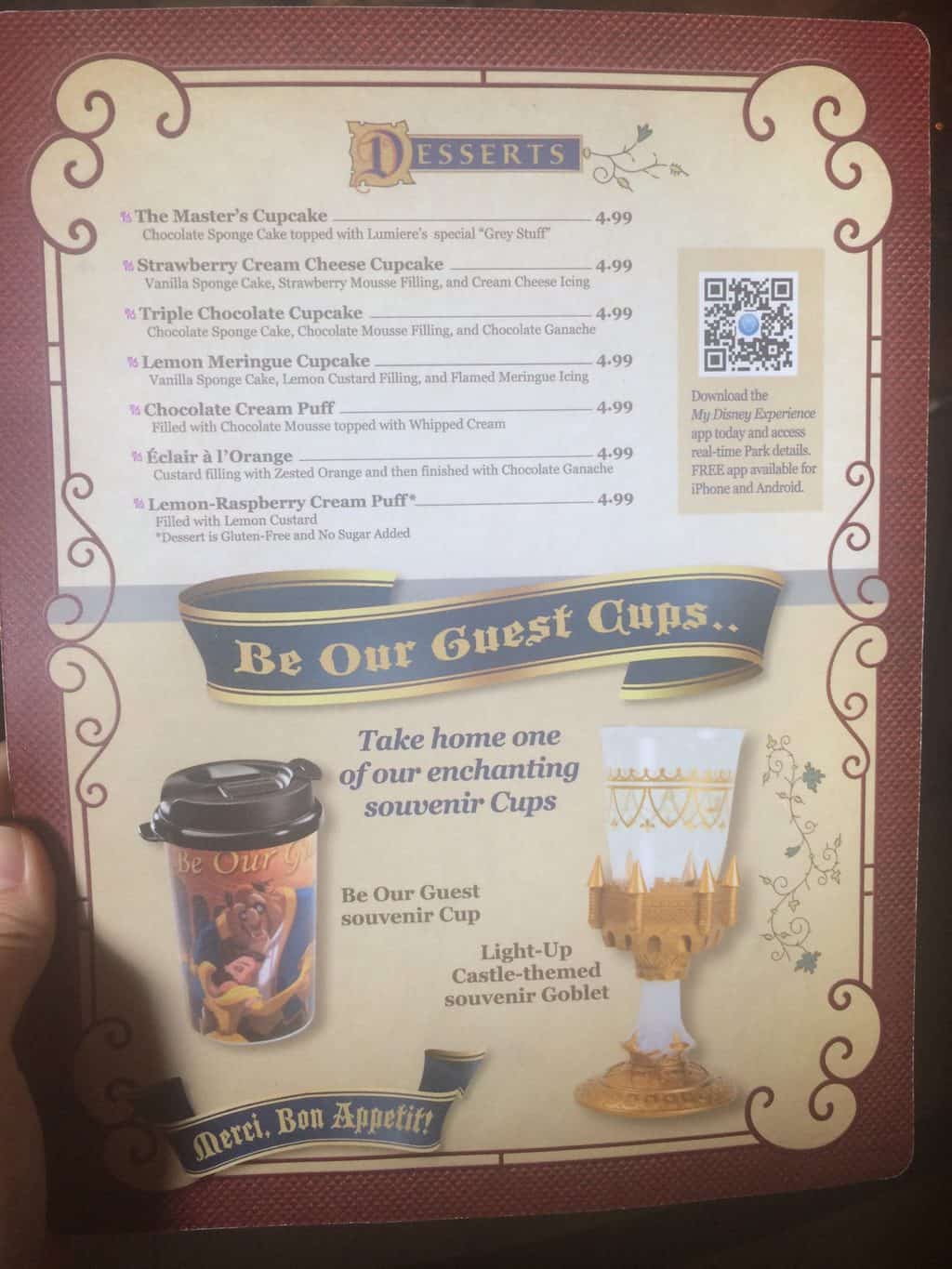 Be Our Guest Lunch Prices
As you can see above, the Be Our Guest lunch prices range from "Disney overpriced" (the cupcakes) to "standard quick service prices." Overall, it shouldn't break the bank too much, and if you factor in the atmosphere and theming into the cost, it's definitely worth it.
This is actually why I much prefer lunch at Be Our Guest, as the prices are more reasonable than breakfast, and none of the food interests me for dinner, so I wouldn't want to spend the "table service" money (read: a lot) on it if I won't enjoy it.
I just want to eat my french fries and grilled cheese and pretend I'm in the ballroom, please!
Be Our Guest Quick Service
Let's actually walk through how quick service works at Be Our Guest, because if you're new to Disney, you may have no idea what quick service even means, and if you're not new to Disney but have never eaten at Be Our Guest, you may be surprised to find a bit more of a process than you would at other quick service places.
First, you'll need to go up to a hut to the left of the entrance to the bridge. There, they'll ask if you have a reservation and if you do, they'll confirm it and then give you menus for your party.
Having a menu is sort of your key to the castle, so to speak, as you then will go see another cast member at the start of the bridge who will allow you to make your way closer.
If you don't have a reservation, you're not allowed to go closer than the start of the bridge, which seems a bit unfair, but if they allowed it, there would be way too many people getting pictures and the experience would be ruined for those with reservations. So, in short, MAKE RESERVATIONS!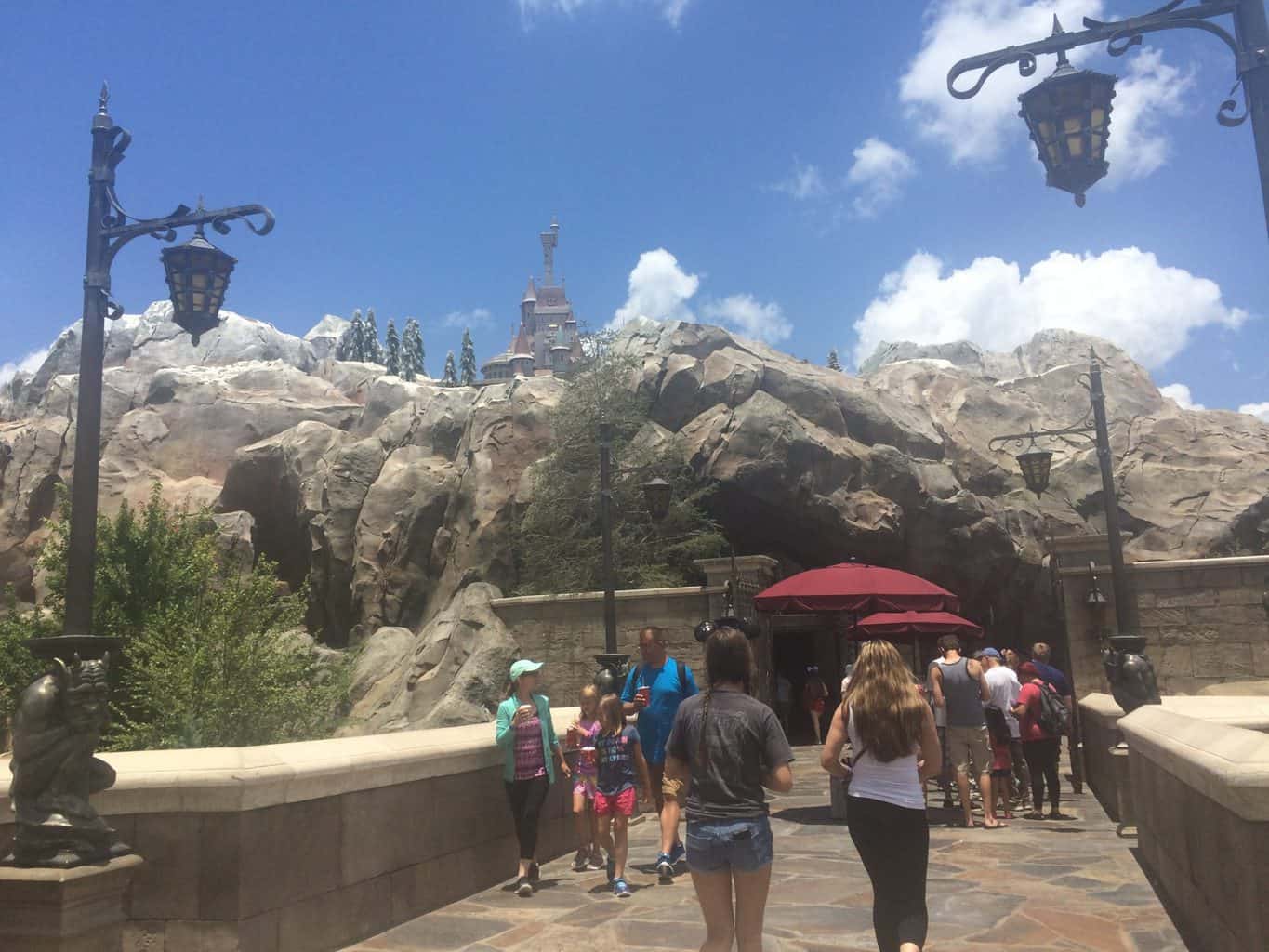 On very hot days, they have water for you while you wait to be actually let inside, as they wait for some people to come out before you make it in to the next line.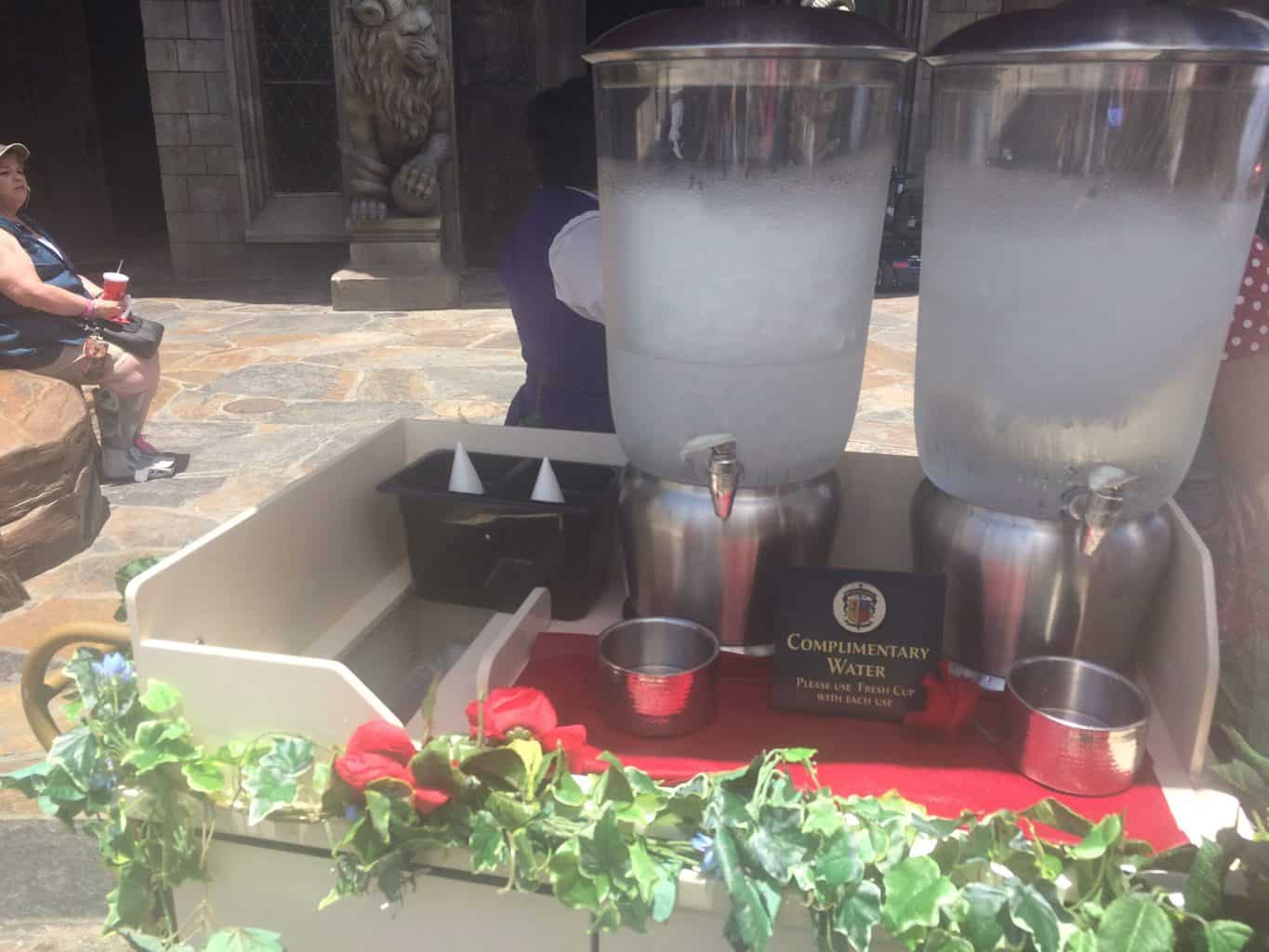 Once you make it inside, you stand in the line in this first room. While it looks chaotic here, there are two sides so it doesn't feel quite so bad.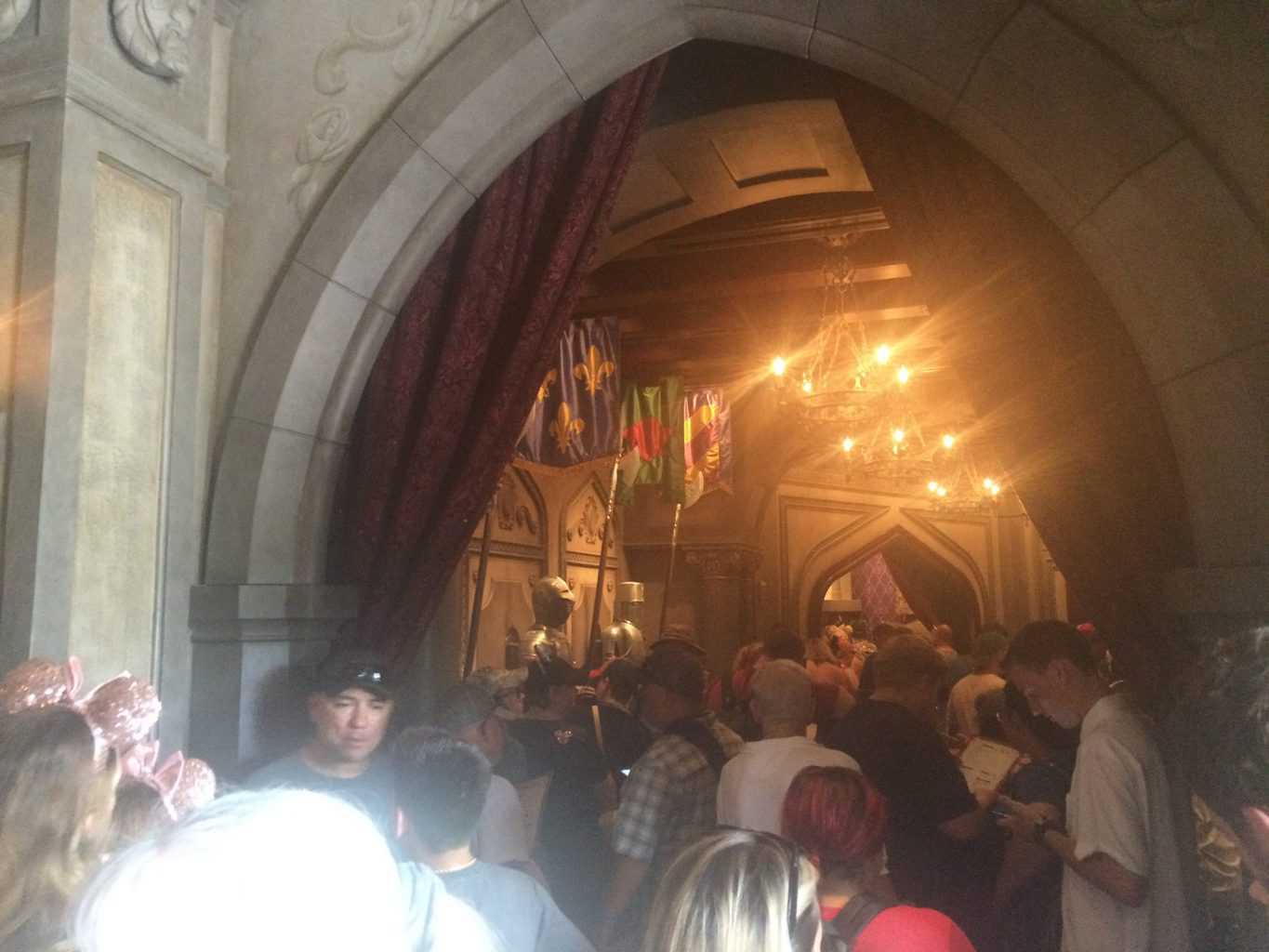 After making your way through the first line, a cast member will ask how you are paying (if you're using your MagicBand attached to a credit card, you can use a self-service kiosk instead of ordering from a person). They'll then direct you into the second room.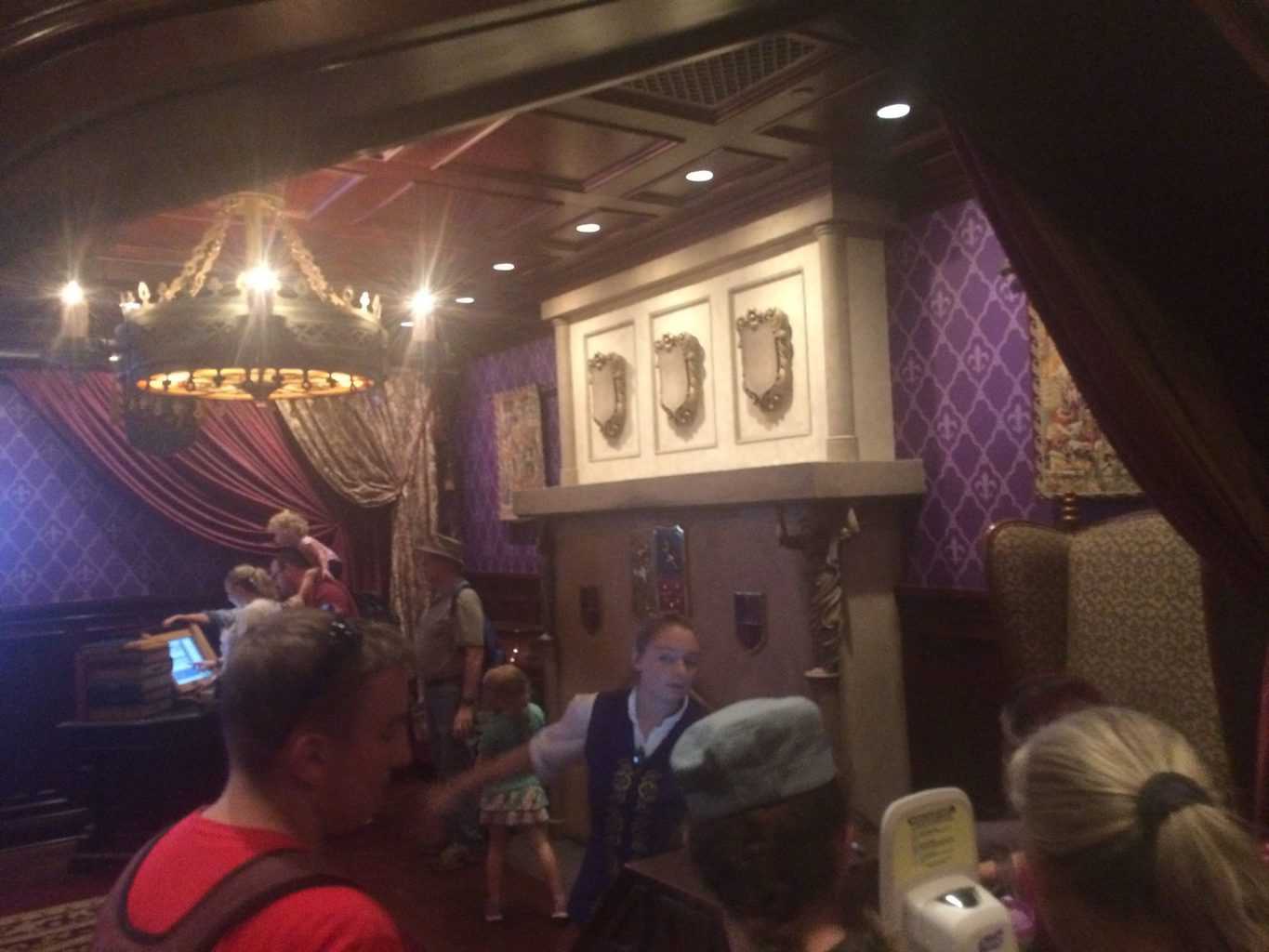 If you're ordering from a person, you'll head towards the middle and wait in line at one of the cast member staffed kiosks.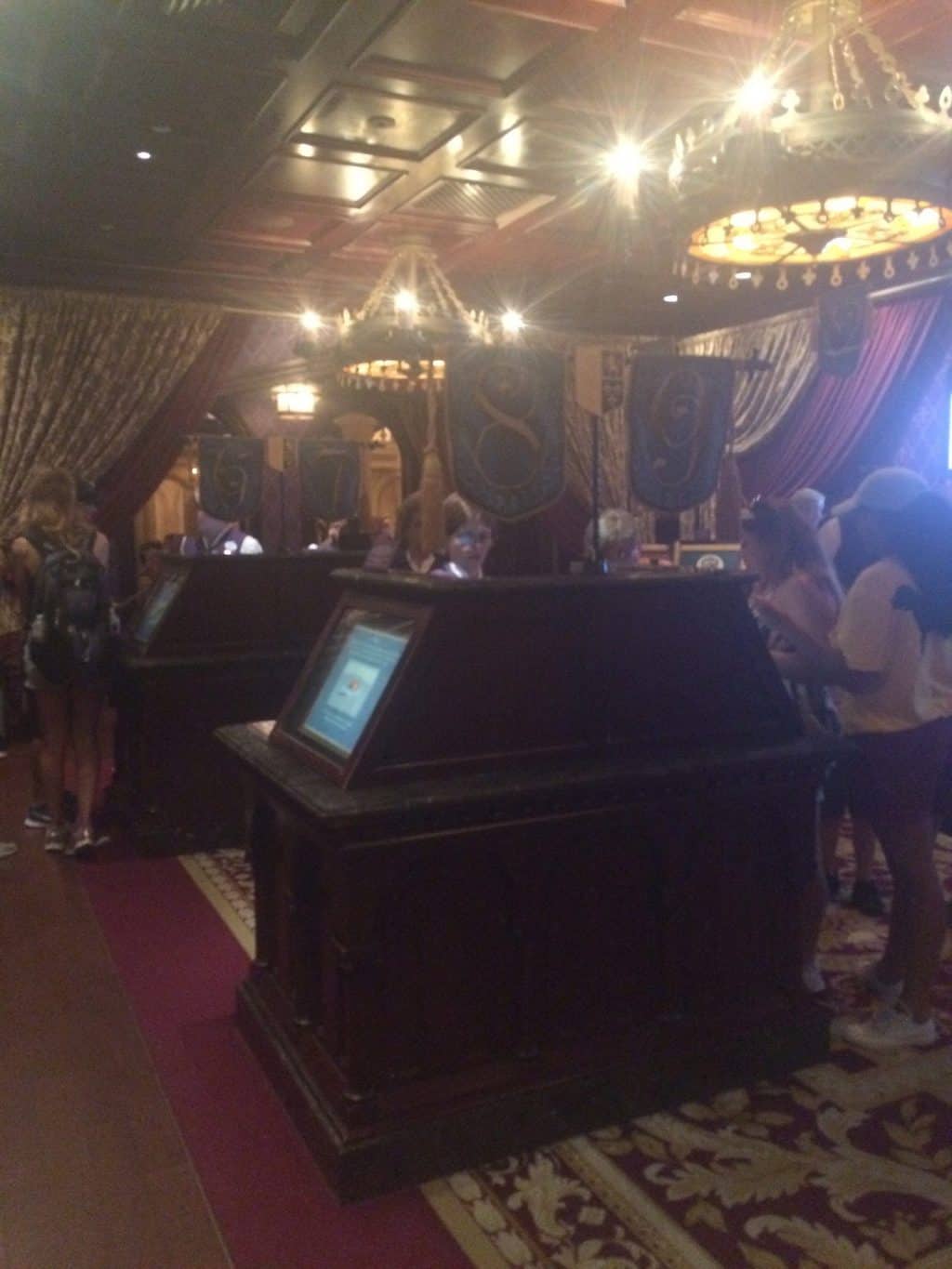 Once you've ordered, they'll either attach your MagicBand to your lunch order, or they'll give you a "rose" to take to your table, which is like a little red hockey puck. If you order on your own from a kiosk, it will be attached to your MagicBand.
Then, you go and find a table anywhere you like. Soon, your server will come find you based on the location of the band or rose, and they'll deliver your meal. Cool, right?!
Be Our Guest Lunch Theming
The theming at Be Our Guest is one of the main reasons it attracts such a crowd, I think. Everywhere you look there is another detailed sculpture or design feature, ranging from the gargoyles at the entrance to the fantastic artwork as you exit.
Be Our Guest Restaurant West Wing
One of the most coveted rooms at Be Our Guest Restaurant is the West Wing, and it's also the smallest, which adds to the atmosphere but takes away from the number of people able to sit here.
We sat in the West Wing on our third visit to Be Our Guest, and while I'm glad we did it because it has great theming, I actually think it's my least favorite in terms of the actual eating experience because of the amount of people coming in and taking pictures with the rose constantly.
It's also very dark, and has "storms" at various parts of the hour, so if you're coming with children who are easily frightened, steer clear!
Be Our Guest Restaurant Ballroom
The biggest room and also my favorite is the Be Our Guest Ballroom. This is the first room you enter when you head into the dining rooms, but my favorite seats are the ones by the windows (with special effects that make it look like it's snowing.
This room is also very busy, but if you grab a seat near the window or with some other tables surrounding it instead of right off a walkway, it's not too disruptive.
Be Our Guest Restaurant Library
The quietest room (though no rooms are really quiet here) is the Be Our Guest Library, which a beautiful centerpiece featuring the Beauty and the Beast.
Have you been to Be Our Guest lunch? Let me know what you thought!