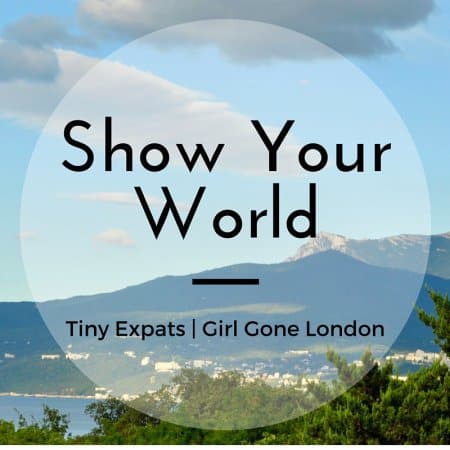 This post is part of Tiny Expat's monthly "Show Your World" initiative. 
A few years ago, my boyfriend and I had to go on a short trip for visa purposes right around Christmas. Because we're cheap, the name of the game was "let's see where we can get the least expensive flights to." After a few days of searching and panicking that flight prices were going up every time we refreshed the page, we settled on a city neither of us had heard of: Bergen, Norway.
Of course, what we didn't know was that Norway is one of the wealthiest countries in the world, so the price you pay to actually explore makes up for those cheap seats in about one trip to the Norwegian supermarket, but lesson learned.
Bergen is the second largest city in Norway, which made us feel cultured and insufferably superior to all of those other tourists who go to the first largest city in Norway. SUCH COMMONERS.
However, when we were doing our research, we found that many museums and attractions were closed for the winter. I was originally worried that we wouldn't find enough to do, but what we did find in Bergen far surpassed any expectation I had for the trip.
Because we went around the holiday season, the mountains were snow-covered and straight out of a Christmas special. There were a few perfect moments where the sun seemed to melt out of the clouds and onto the peak and I have never taken so many pictures in my life.
We were also able to experience a Bergen Christmas carol service on the side of Mount Floyen. While we didn't quite know what we were saying, we picked up the tunes easily and did our best to copy the locals next to us.
Bergen is full of charm, from the trolls that protect the mountain playground to the friendly locals who helped us make the most of our stay and looked at me in pity as the Florida girl attempted to survive a day in a Norwegian winter.
We also found a giant gingerbread exhibit, the world's largest, showcasing gingerbread houses from around the world. I did not attempt to eat some of it and do not think I am now on a Norwegian watch list.
One day, we'll return to Bergen in the summer as we're curious as to what the city is like in the daylight (of which we experienced about 12 hours of total during our three days there), but honestly I think it's more likely we'll return in the winter again.
We went on a whim, hoping for a fun few days away and a couple of good pictures from the mountainside, and we came home with lasting Christmas memories of the time we participated in a traditional Norwegian holiday dance, watched the sun rise and set from the mountainside, and met some nice trolls in the forest.
Bergen will always be one of my favorite trips and a reminder that there's always beauty where you least expect it (cliche, I know, but, seriously, don't make me show you my other 78,342 pictures of the mountain because I totally will)